2020 Washington Technology Virtual Workshop
Sponsored by The Washington Society of CPA's and Presented by K2 Enterprises
In partnership with The Washington Society CPAs, K2 Enterprises is pleased to produce and deliver the Washington Technology Virtual Workshop on December 4, 2020. This very special, one-day event provides you with the opportunity to become more productive and efficient with your use of technology. Throughout the Workshop, you will benefit by learning from K2's team of award-winning instructors to help you stay abreast of technology developments impacting accounting and financial professionals. 
During the Workshop, you will be able to earn up to 8 CPE credits, and interact in real-time with the K2 instructional team to get the answers you need to your technology questions.  Below, you will find a detailed agenda of the event, including  descriptions for each session.  Additionally, for more information from The Washington Society of CPAs, including registration information, please click the link to the right. We look forward to serving you on December 4!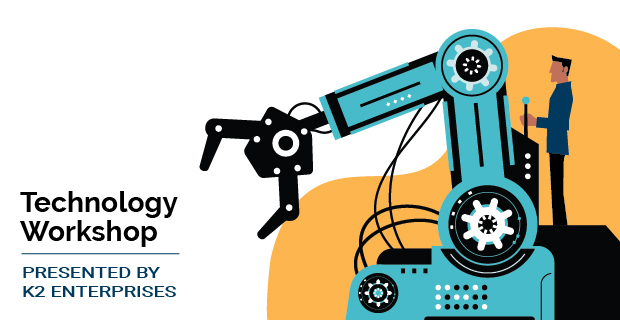 Countdown to the Workshop!
Log-in and Rolling Slides
Welcome and Announcements
You know where technology has been, but where is it headed? What technologies are coming that would be useful to you and to your company? You've heard about 5G, WiFi6, and collaboration, but what products work to make this practical? This session has the breadth, depth, and recommendations to help you understand what is in the market and what is working so that you can make informed decisions. Attend this session to learn how using the right hardware and software can improve your business and your everyday life. 
Major Topics Covered
Hardware trends

 

Software innovations

 

Communication and collaboration tools

 

Unusual technologies you might have missed

 

 
Learning Objectives
Upon completing this session, you should be able to: 
Select current technologies from a list

 

List

 current communications choices

 
Differentiate between k

ey products and able competitors

 

Create 

a tactical technology plan

 
Security is a top concern for CPAs every year. Yet many hacks result from organizations not implementing effective internal controls over information technology. In this session, you will learn about critical IT-related controls using a case study approach with stories which are all new for 2020. More specifically, you will learn from real-world examples of breaches and security failures. Accordingly, you will understand better how to protect your company and its data. Attend this fast-paced session and learn more about IT-related controls you can use to prevent computer crimes such as identity and information theft, tax refund fraud, and more. 
Major Topics Covered
Data breach and computer security tips

 

Security awareness training

 

Learn more about current events and improve your security knowledge at the same time

 
Learning Objectives
Upon completing this session, you should be able to:
List at least three major security incidents reported in the headlines in the last two years, and explain at least one major control design or operation flaws which allowed the hack to occur

 

Define the three factors used to authenticate someone to a system and explain why two-factor authentication is preferable to one-factor authentication

Explain why home-grade computer hardware and applications are inherently less secure than business and enterprise-grade hardware and applications

 

List at least three best practices learned as a result of reviewing the incidents cited in the case studies

 
CPA firms are going through significant regulatory and technology changes. Do you want your firm to be transformed or to lag? What is the impact of the cloud, niche verticalization, software upgrades, and client demands on your team and the partners' profitability? Are you ready to navigate the new generation software? This session will provide separate road maps outlining small and larger firm choices in technology. Attend this session to get an independent overview of the state of technology in the profession. 
Major Topics Covered
CPA firm centric h

ardware

 

Software 

changes

 

Technology options for your firm

 

Specific 

technologies 

to

 improve productivity and profitability

 
Learning Objectives
Upon completing this session, you should be able to:
Select new 

technologies f

or your firm f

rom a 

road map

 

List 

top niche markets

 
Differentiate between 

products that are ready to implement and those that need time

 

Create a 

t

ransformative

 plan

 for your firm

 
Over the past two years, ransomware has surged as a major threat to individuals and organizations of all sizes. To illustrate the threat ransomware is, its' annual cost to businesses is now estimated at over $8 billion, up from $1 billion in 2016. Against that backdrop, ask yourself "am I at risk?" Of course, the likely answer is "yes". To reduce this risk, you should participate in this session where you will learn how you can avoid becoming yet another victim of ransomware. The survival of your business may depend on it! 
Major Topics Covered
Understanding what ransomware is and how it is transmitted

 

Exploring a variety 

of 

high-profile ransomware 

cases

 

Developing an action plan to reduce your individual and organizational risk

 
Learning Objectives
Upon completing this session, you should be able to:
Define "ransomware" and identify how ransomware is disruptive

 

List the major ways ransomware is transmitted

 

Identify key controls you should implement to reduce your ransomware risk

 
So, you've been using Power BI to create fundamental reports and dashboards and now you're ready for even more advanced reporting…if so, this session is for you. In this session, you will learn how to extend your Power BI environment by incorporating tools such as Data Analysis Expressions, Key Performance Indicators, Hierarchies, and Apps and Content Packs, among others. By taking advantage of the tools and techniques covered in this session, you will be able to move beyond simple reports and dashboards in Power BI and truly leverage the power of this awesome reporting tool. 
Major Topics Covered
Creating formulas in Power BI with Data Analysis Expressions

 

Adding Key Performance Indicators to your Power BI reports and dashboards

 

Managing security in Power BI

Publishing your reports and dashboards to Apps and Content Packs for easy sharing with other team members

 
Learning Objectives
Upon completing this session, you should be able to:
List the steps necessary to create formulas using Data Analysis Expressions

 

Identify the importance of Key Performance Indicators

 

Apply appropriate security techniques to your Power BI reports and dashboards

Identify the purpose of Apps and Content Packs in the context of Power BI

 
New and improved features in Excel tools such as Power Query and Power Pivot means that yesterday's techniques for generating reports in Excel are obsolete. Best practices for next generation reporting include building queries and transformations using Power Query, adding user-defined calculations with Data Analysis Expressions, managing data models in Power Pivot, reducing dependency on formulas with PivotTables, and adding visualizations where appropriate. Participate in this session so that you can learn the best practices for preparing and automating your Excel-based reports. 
Major Topics Covered
Key issues with traditional reporting models

The roles associated with various Excel features, including Power Query, Power Pivot, Data Analysis Expressions, and PivotTables in Excel-based reporting environments

How to create "repeatable/refreshable" reports in Excel that link data from external data sources

 
Learning Objectives
Upon completing this session, you should be able to:
List some of the deficiencies associated with traditional Excel-based reporting

 

Identify the roles of tools such as Power Query, Power Pivot, and Data Analysis Expressions in next-generation Excel-based reports

Create data queries and transformations using Power Query

 

Identify the steps for managing Data Models in Power Pivot

 

List the steps necessary for summarizing data from a Data Model using a PivotTable