Can Your Browser Affect Your Privacy?
Privacy issues abound in today's connected world. As you browse the Internet, prying eyes are trying to capture information about you, the topics you are interested in, items you are considering purchasing, and even your religious and political leanings. So, if you're concerned about your privacy – or lack thereof – you may want to ask, "can your browser affect your privacy" and, if it does, what can you do to regain some control.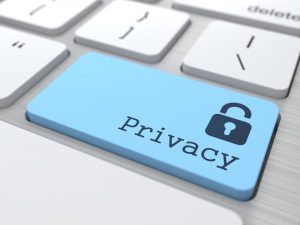 Privacy Risks With Browsers
First, understand that browsers, search engines, and even merchants represent potential exposure points of sensitive and personal data. This fact should be concerning for individuals and businesses alike.
At the individual level, we should be concerned about how much of our personal information we consider to be sensitive and private is available to virtually anyone who wants it. For example, are we comfortable with deep marketing profiles available to merchants? Are we concerned about someone potentially exposing our browsing history? Do we care that location tracking tools can show where we were and when?
Most of the popular browsers in use today collect information about us by default. Examples of such information include the items listed above. However, in most cases, we have the option to change our browser's settings and begin to reclaim control of our data.
To be fair to the companies collecting personal information about us, most do a good job disclosing that they are collecting this information. Typically, you will find these in the company's privacy policies. For example, consider the following excerpt from Google's Privacy Policy. Clearly, Google's policy indicates that they will collect significant volumes of data about you when you use their services.
Google Privacy Policy Excerpt
We collect information about the apps, browsers, and devices you use to access Google services, which helps us provide features like automatic product updates and dimming your screen if your battery runs low.
The information we collect includes unique identifiers, browser type and settings, device type and settings, operating system, mobile network information including carrier name and phone number, and application version number. We also collect information about the interaction of your apps, browsers, and devices with our services, including IP address, crash reports, system activity, and the date, time, and referrer URL of your request.
Alternatively, consider the following excerpt of Intuit's Privacy Policy. Like Google, Intuit also is collecting significant amounts of data from you. Further, Intuit's policy says they synthesize this data across their platform (except income tax data) to create profiles from which they attempt to market other Intuit services.
Intuit Privacy Policy Excerpt
We use the information you choose to share with us across our platform to help you reach your financial goals.
Here's what we mean by "platform" – when you choose to share data with us, or bring over information from third parties (like a bank or loan provider), we use that data together, not just within the individual offering(s) you're using. This means your bookkeeping details from QuickBooks, budgets from Mint, and recommendations from Credit Karma all live together.
This goes for everything except your tax preparation data – that stays in TurboTax and never goes anywhere except to the IRS without you telling us it's okay first.
Keeping your data in one place like this enables us to save you time by putting the information you choose to share with us to use. For example, if you ask us to, we can fill out a loan or credit card application for you based on what we already know about you.
Your centralized data provides a holistic understanding of your financial situation that enables us to help you find more money, save time, and have more confidence navigating your finances. We're constantly striving to create personalized experiences that power your prosperity in a way that's most important to you.
You can learn more about our platform and how we store and use your data in our Privacy Statement.
Browser Options For Reducing Risks
So, if you're concerned about your privacy, what can you do to protect your information? We suggest modifying the default settings in your browser to reduce the volume of information others collect about you. For example, virtually all browsers allow you to block cookies. Likewise, most browsers allow you to prevent cross-site tracking. Additionally, you can enable settings in most browsers to block certain types of ads.
You can enable pre-configured "policies" to quickly and easily enhance privacy in some browsers. For example, Microsoft's Edge browser makes such an option available, as shown in Figure 1. For users with limited technical skills, enabling such policies can be a great way to improve privacy.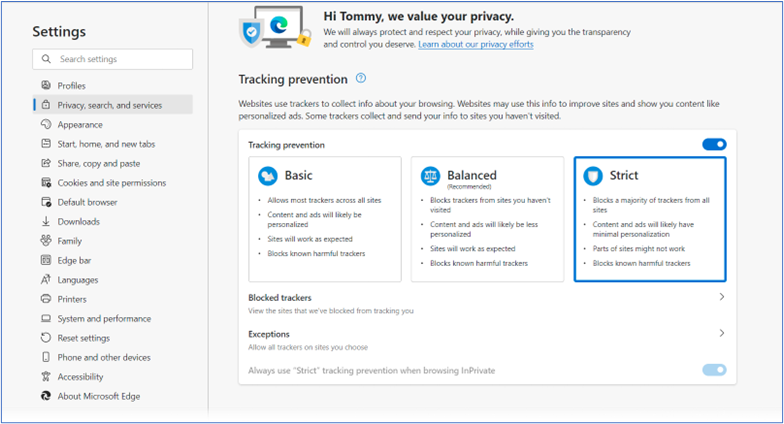 Figure 1 – Enabling "Strict" Privacy in Microsoft's Edge Browser
Is It Time For New Tools?
To be clear, you can configure the settings in most browsers to provide a high level of privacy and security. However, do we want to depend upon all end users to do that? Do they have the time and expertise to adjust their settings appropriately? Given the importance of this issue, many users would be wise to consider implementing new tools with privacy and security settings enabled by default.  
Two tools that can enhance your privacy by default are the Brave browser and the DuckDuckGo search engine. Both these tools enable privacy by default. For example, Brave blocks ads, cross-site trackers, cookies, browser fingerprinting, and even provides phishing protection. Likewise, DuckDuckGo helps protect your privacy because it does not collect, store, or share your personal information. Therefore, DuckDuckGo can never disclose the items you search for because it doesn't track that information in the first place.
Personal privacy matters! Unfortunately, most popular browsers used today do not enable privacy settings by default. The same is true of most popular search engines. Sure, users can modify the default settings to enhance privacy and security, but that requires the knowledge and drive to address the issue. Perhaps a better solution for many is to utilize tools where privacy and security are the default condition. Two such tools are Brave and DuckDuckGo. If your privacy concerns you, perhaps you should consider giving these tools a try.