K2 Delivers Technology Focused Learning Through Seminars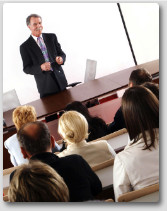 We presently offer one two-day, seventeen full-day, and seven half-day seminars, working cooperatively with various state CPA organizations. Topics in these offerings include:
All of the seminar topics provide practical guidance and instruction to participants on increasing productivity with various technology tools available to accountants and other professionals.
Planning a CPE event? Check out our free
planning guide.