Personal privacy is a "hot" topic in many circles today. Many individuals are becoming increasingly outraged when they learn how much information has been collected about them and how it is being used. Further, most are startled to find out the sheer volume of information that has been collected about them and may be available for sale in various on-line marketplaces. If you are concerned about personal privacy and want to get back in control of your own information, following are five easy-to-implement ideas that can help you reach your goal.
Carefully Consider Your Choice of Browsers and Settings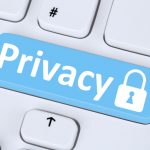 From a privacy perspective, your choice of a web browser matters and the settings you establish within the browser matter also. Some of the more popular browsers today are "advertiser-friendly" and potentially share data with advertisers that you may not wish to have shared. For example, by many estimates Google's Chrome browser is the most commonly used browser today, with approximately 80% market share. Yet Chrome scores poorly in many privacy categories because of issues such as automatically signing you in to the browser (so it can track your activities) and tracking your location. Two lesser-known browsers – Mozilla Firefox and Tor Browser – score much higher in most privacy categories.
In addition to the browser you use, carefully consider the various privacy settings available in the browser. Many browsers, for example, provide controls that allow you to disable pop-up ads, browse in a "private" mode, and block cookies, among other options. You should learn what settings you can adjust in your browser and make the necessary adjustments so that you can control your personal privacy to a degree at which you are comfortable.
Utilize a Virtual Private Network
Those who are truly concerned about personal privacy should always utilize a virtual private network (VPN) and connect through the VPN to the Internet. A VPN provides a secure, encrypted tunnel between your computer and the otherwise unencrypted Internet. By connecting through a VPN, you can browse the Internet in virtual anonymity so that not even your Internet Service Provider will know where you have visited or what you have done there. Note, however, that if you have signed-in to a browser or have logged-in to an account at an online merchant, you can be tracked at that level, even if you are using a VPN. Many good choices exist today for personal VPN solutions, including Nord VPN, CyberGhost, and Private Internet Access; most personal VPNs cost less than $4 per month.
Monitor All Online Accounts
As you are no doubt aware, many companies track what you do while you are browsing the Internet or even a particular site on the Internet. Pay attention to each web site's Privacy Policy and learn what information these companies are collecting, how they are using it, and whether they sell or share information collected about you with third parties. For example, you can read Google's privacy policy by clicking here and you can read Amazon's by clicking here.
Additionally, most companies allow you to view and self-manage the information being collected about you. To illustrate, if you are concerned about Amazon's personalized advertisements, you can click here to manage those preferences as they relate to you. Likewise, if you want to see what your Alexa-powered devices have on file about you, click here to access Amazon's Alexa privacy page and then choose Review Voice History. Similarly, you can see everything that Google has on file about you by clicking here to download all that information. However, take notice that downloading the information does not delete it; if you want to delete it, Google has separate processes for that.
Flush Cookies from Your Computer
Cookies are small files that are often stored on your computer when you browse the Internet. Companies place cookies on your computer so that they can track items such as what sites you visit and what you look at on each site. They also use cookies to memorize and automate log-ins to specific sites. Obviously, cookies can collect – and report – a tremendous amount of information about you. If that makes you nervous, you can delete cookies from your computer and you can also block new cookies from being stored on your computer. Although the processes for both these tasks are quite simple, they do vary based on the browser you may be using. Therefore, visit www.allaboutcookies.com to learn more about cookies, how you can delete them, and how you can manage them. At this site, you will find browser-specific instructions for dealing with cookies.
Inspect and Cleanse Your Public Profiles
Finally, you should understand that many companies are building massive databases that collect publicly available information about you from sources such as birth records, real estate transactions, marriage licenses, divorce filings, and court records. Examples of some of the companies who are collecting this information and creating profiles about you include Radaris, USA People Search, and PrivateEye.com. The challenge is that when attempting to synthesize information from multiple data sources to create a profile about a given individual, mistakes can sometimes be made, resulting in an inaccurate profile about that individual. Further, many individuals are uncomfortable with the volume of information about them being available for sale to virtually anyone who wants to buy it. In January 2019, Lifewire published an outstanding article on this topic entitled How to Remove Your Personal Information From the Internet. In this article, the author provides detailed, step-by-step instructions on how you can opt out of many of these sites, making it more difficult for others to gain access to this data.
Our increasingly connected lifestyles mean that we potentially expose more of our personal information every day to the point that our personal privacy may be compromised. Unplugging our devices and never plugging them back in is not a viable option for protecting personal privacy and, fortunately, it does not have to be. Instead, by taking the five steps outlined above, we can get back in control of our personal information. However, remember that this will not be a one-time project; instead, you will need to commit to an on-going process that protects your personal privacy every day.