Measure Your Team's Productivity With Microsoft Productivity Score
If your team is running Microsoft 365/Office 365, they have access to many applications and services that can increase productivity – but only if they use the tools available to them! Microsoft now provides Microsoft Productivity Score to help you evaluate your team's use of and proficiency with their subscriptions. With this tool, you can assess where your team members shine with the tools provided through their subscriptions. Equally important, you can see where they might need some coaching. In this article, you will learn how to use Microsoft Productivity Score to improve your team's productivity with their Microsoft 365/Office 365 subscriptions.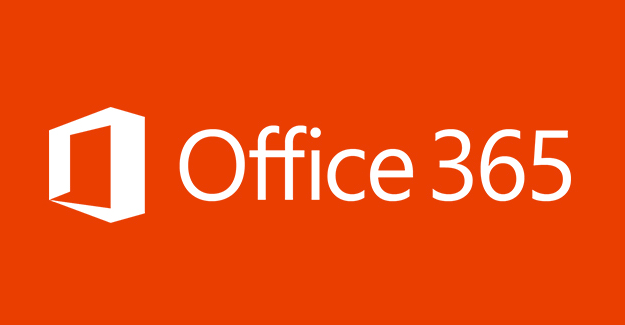 What Is Microsoft Productivity Score?
Previously, we published an article describing Microsoft Secure Score, a tool that helps you assess your Microsoft 365/Office 365 implementation's security (click here to read that article). Productivity Score operates much like Secure Score. More specifically, Productivity Score analyzes how team members use the tools available to get their jobs done. It then provides feedback in two areas: 1) People experiences and 2) Technology experiences.
People Experiences And Microsoft Productivity Score
With People experiences, Productivity Score analyzes how team members collaborate and communicate on content. Additionally, Productivity Score also looks to see if team members use their Microsoft 365/Office 365 subscriptions across multiple platforms, such as a Windows-based computer and their iOS or Android-powered mobile devices. An essential part of this analysis is determining whether team members collaborate online or do they rely on legacy practices such as emailing documents to each other. A recent Forrester report indicated that information workers save 100 minutes per week on average using Microsoft 365/Office 365 collaboration tools, illustrating the benefits of real-time, online collaboration.
Technology Experiences And Microsoft Productivity Score
Of course, if a team member's technology does not function as intended, productivity will suffer. Further, the affected team member(s) can become frustrated and rely on legacy technology because of its reliability.  Of course, this practice solves the problem in the short term but will affect productivity negatively over an extended period because team members do not use newer features. Accordingly, Productivity Score utilizes endpoint analytics to measure how software and hardware performance affects team members' productivity.
Which Applications And Services Are Measured
Productivity Score collects data from each of the following tools and services available in your subscription model: Exchange, SharePoint, OneDrive, Teams, Word, Excel, PowerPoint, OneNote Yammer, and Skype. Productivity Score updates your data each day, reflecting your team's actions on a rolling 28-day period.
Calculating Your Microsoft Productivity Score
Upon collecting the people and technology data described above, Productivity Score generates an overall assessment subdivided into eight categories.
Communication
Meetings
Content Collaboration
Teamwork
Mobility
Endpoint analytics
Network connectivity
Microsoft 365 Apps Health
For each of the eight categories, up to 100 points are available. Reports available provide 28-day and 180-day views, so you can identify and address trends as they materialize. Figure 1 provides a sample report. To access your analysis, you must have one of the following sets of rights established in your Microsoft 365/Office 365 implementation.
Global Administrator
Exchange Administrator
SharePoint Administrator
Skype for Business Administrator
Teams Administrator
Global Reader
Reports Reader
If you have the necessary rights, you can view your report by visiting Reports, Productivity Score in the Microsoft 365/Office 365 Admin Center.
Interpreting Your Microsoft Productivity Score Results
Upon generating a Productivity Score report, you can click on any section to obtain more in-depth insights into how well your team performs and where improvement opportunities exist. For example, clicking on Content Collaboration in Figure 1 open a more detailed analysis, such as the one pictured in Figure 2. With this information available, you might consider planning some training options to help team members collaborate more efficiently and securely. Of course, clicking on any of the sections of the summary report provides similar drill-down capabilities.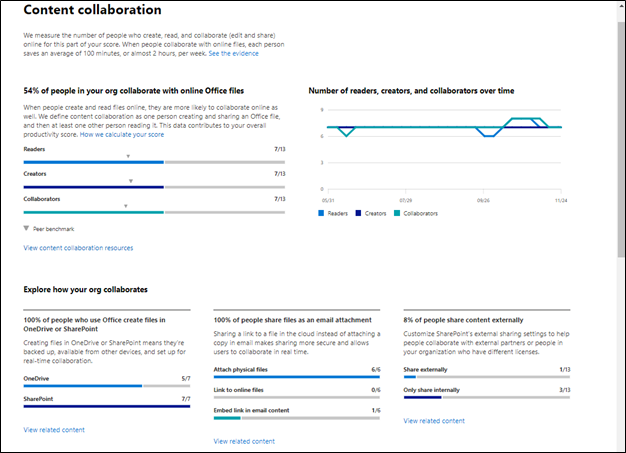 Many organizations subscribe to Microsoft 365/Office 365, yet few realize the full return on investment available to them from the platform. However, with the availability of Microsoft Productivity Score, that should change soon. Using this tool, you can identify where your team members are excelling and where they need help in understanding how to work more efficiently and securely. So, if you have access to Productivity Score, begin to put this powerful tool to use right away. You and your team members will be happy you did!
You can learn more about Microsoft Productivity Score by watching the following video and also by clicking here to visit Microsoft's web site.