Accounting Automation Fundamentals
Accounting automation is becoming a priority for many businesses for countless reasons. The benefits are many, and the barriers to entry are few. So read on, and in this article, you will learn more about accounting automation and some of the critical things you need to know about this emerging technology.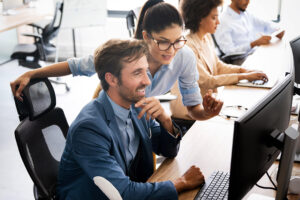 First, What Is Accounting Automation?
As its name implies, accounting automation is the process of automating many of the rote, repetitive accounting-oriented tasks otherwise performed by humans. Of course, automating accounting tasks has been a leading objective of many businesses since Blaise Pascal built the first adding machine in the 1640s. However, key technology advancements in the past ten years have accelerated the pace of accounting automation. Consequently, businesses of all sizes are now considering their options for streamlining and improving their accounting operations.  
Accounting Automation Goes Beyond Simple Bank Feeds
One of the first large-scale deployments of accounting automation was bank feeds. With bank feeds, a business can integrate their bank accounts with their accounting software so that as transactions clear the bank account, they are recorded in the accounting software automatically. In addition, bank feeds often incorporate artificial intelligence and machine learning to automate the process of matching transactions that have cleared the bank to transactions already recorded in the accounting application. This attribute streamlines the bank reconciliation process and automatically records transactions previously entered into the company's books. However, as valuable as bank feeds are, they are only a starting point for more widescale automation efforts.
Beyond simple bank feeds, accounting automation can improve the following workflows, as examples.
Automated matching of accounts payable bills to purchase orders and receiving reports.
Scanning accounts payable bills directly into the accounting application.
Routing documents electronically – such as purchase orders and customer credit requests – to the appropriate party for approval.
Uploading employee expense receipts into an expense management system.
Completing payroll and sales tax returns automatically from data already in the accounting application.
So, while bank feeds are a significant first step, they are by no means the only option for streamlining accounting processes.
"Digital Plumbing" Is Necessary For Successful Automation
In many situations, accounting automation depends on integrating data between multiple systems. For example, you may need to integrate data between your web-based storefront and your accounting application. Fortunately, you can take advantage of many "digital plumbing" tools to facilitate these types of processes. For example, suppose you need to integrate data from an accounting application such as QuickBooks to a business intelligence application such as Power BI to automate some of your reporting processes. In situations such as this, you can use tools available from CData (https://www.cdata.com) to create a perpetual "live link" between the accounting application and the reporting tool. You can automate data transfers between systems by incorporating digital plumbing tools, thereby avoiding duplicated manual data entry efforts.
Robotic Process Automation Tools Are Essential For Success
Robotic Process Automation (RPA) has emerged as a powerful technology impacting accounting and financial professionals. With RPA tools such as Microsoft's Power Automate (https://powerautomate.microsoft.com), you can create customized information flows from one party to another. For example, you can use RPA to send automated notifications to a team member that a customer has overdue invoices, a team member has reported overtime, or that a credit memo requires approval. With RPA tools available today, you can create workflows customized to your specific needs.
Accounting Automation Increases Accuracy
One of the most significant benefits associated with accounting automation is improved accuracy. By automating as many processes as possible, you will reduce the opportunity for human error. For example, you can reduce the human risk associated with keypunch error by automating the input of accounts payable bills using a "scan-and-populate" tool. In this context, not only does accounting automation improve efficiency, but it also improves accuracy.
Improved Internal Control - Yet Another Benefit
Internal control is a concern for most accounting and financial professionals. Fortunately, accounting automation can improve internal control. We ensure that they run the same way repeatedly and without exception when we automate them. For example, suppose a business automates routing purchase orders to the appropriate party/parties for approval. Further, assume a "tiered" approval process is in place, where only a single authorization is necessary if the order amount is less than $1,000. However, additional approvals are required if the order amount exceeds that value. Creating an RPA-based automation workflow ensures that purchase orders route to the appropriate party/parties for authorization, without exception, thereby enhancing internal control. 
Accounting automation is one of today's most powerful emerging technologies. Although not a new concept, automating rote, repetitive tasks is critical for many organizations. The availability of technologies and tools that support this effort is undoubtedly driving this effort. Further, as more business professionals become familiar with the benefits associated with accounting automation and the supporting technologies, you should expect to see automation efforts increase. Therefore, it is only natural to ask, "what's holding you back from automating many of your accounting tasks and activities?"