Data Analytics For A Competitive Edge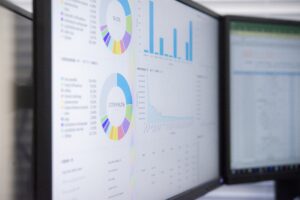 Operating your business wisely today includes using data analytics for a competitive edge. By regularly reviewing key performance data points, you can manage your business productively. As a result, you'll be able to have a better idea about everything from operational strategies to customer acquisition, risk management, and product development. K2 Enterprises offers CPE courses on Data Analytics.
Data analytics is analyzing a collection of raw data to answer questions. The data collected is used for various measurement purposes. For example, how many visitors you have to your website may be a key metric. How long people stay on each page, tabs they click through, products they buy, and dollar amounts they spend could all be additional valuable metrics. In addition, business data analysts can apply analytics to various areas of importance. For example, what are key search terms in your business? How are people finding you? Do you have strong repeat business? In short, analytic programs and processes help you assess various aspects of how your business is operating. You can also run data analytics on the perception of your company, whether that's through surveys or other metrics that allow you to judge customer feedback.
How Do You Use Analytics?
According to Lotame, data analytics can aid your business performance. For example, it can help you determine whether a marketing or advertising strategy is functioning well. On the other hand, data analytics can help you identify when a product or service might be losing popularity with your customer base. Analytics can even help you with repeat business. For example, improving customer retention by understanding what they buy, when they buy it, and if they return products benefit from data analytics. Using data analytics on your social media platforms is another effective way to learn more about how your customers are engaging with you. Information can help you beneficially tweak your strategy. It can also help you improve customer service.
Different Types of Data Analytics For a Competitive Edge
There are four types of data analytics. Firstly, we have descriptive analytics, where you summarize your data through business intelligence tools. The second type of data analytics is diagnostic analytics. You consider what happened to understand why something occurred. Predictive analytics focuses on making predictions of outcomes. In addition, prescriptive analytics prescribes multiple courses of action on what to do using machine learning models.
Management gains operations insights with these four distinct types of data analytics. Some analytics describes current trends, while others explore why something went wrong to help prevent a similar problem. For example, analytics insights might convince you to move on from a poor-performing product. Some predict future trends and prescriptive analytics that can help you plan from multiple courses of action. Alternatively, getting insight into consumer information can help you develop new products and services, alter your price points, or find ways to use specific SEO language to drive new traffic to your business. Many analytic tools are built into platforms, but you can also utilize software or a data analytics service provider.
Managing Security Features
Data analytics can also be used to collect data for risk management. Collection aggregation and analysis capabilities can help you perform security functions that detect, analyze, and mitigate cyber threats. Of course, your business must have IT security protections in place and a go-to strategy when you're hacked. Preparations should include a recovery plan to identify applications you need to recover first and which people on your team need to be involved. Having a plan will keep your company safer. In addition, it will also allow you to rebound quickly in the event of a breach.
Data analytics are easy to collect but assessing the findings and making an action plan based on their analysis is critical. Doing this across various platforms – website, social media accounts, or email marketing programs – can also help you stay on track for meeting goals and objectives. In addition, omnichannel tracking can be beneficial when seeking out expansion funding or looking for investors. Use data analytics for a competitive edge!
Randy Johnston and others from our K2 team help businesses with strategic technology assessments and planning, accounting software selection, document management selection and planning, and business continuity strategies. Visit the site to learn more, and reach out via email for a consultation. Consider expanding your knowledge of Data Analytics with a K2 course.