How eCommerce Can Keep Your Small Business Going Strong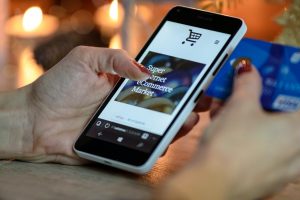 We are convinced eCommerce can keep your small business going strong. The economy can go up or down. However, you can control your business destiny with an active eCommerce site and consistent promotion of your services or product. It seems like work never stops in a small business. We can have unexpected things happen. Business cycles go up and down, but who could have predicted what happened in 2020?
Economic Ups and Downs – Pandemic, Recession, Oh My!
Whether you run an accounting firm, salon, retail store, or any other type of small business, the pandemic may have forced you into closing your doors to the public. Closures were especially frequent if your products and services were deemed non-essential during local coronavirus lockdowns. On the other hand, you may have continued stay at home policies longer for safety. The U.S. News and World Report states that about a third of the small businesses in America have been forced into temporarily closing their doors to the public. Further, about 22 percent are expected to close within the next couple of months permanently. However, eCommerce can keep your small business going strong.
Despite these closures, American consumers are still shopping, and spending money on things like food, liquor, CBD, entertainment, personal care products, and children's toys.  Additionally, eCommerce sales grew by 49 percent during the month of April. As such, it may be time to create or expand your online store if you have not already done so. For some tips on creating and marketing your eCommerce store during and after the COVID-19 crisis, read on!
Use an eCommerce Platform to Sell Products Online
If you were not selling your products online before the COVID-19 outbreak, now is the time to do it. An eCommerce website will help you to reach new customers from nearly anywhere in the world. Plus, your online store can remain open even when your physical location is closed. Further, eCommerce platforms like Adobe Magento, BigCommerce, Ecwid, Sellfy, Shopify, Volusion, WooCommerce, and Zoho Commerce can help you to manage your sales and marketing, grow your small business, and simplify the process of selling your products online.
When choosing an eCommerce platform for your small business, you will need to decide between three different options: Software as a Service (SaaS), Open-Source, and Headless Commerce. For running your online store, you will also need to decide between an on-premises or cloud hosting environment. However, some eCommerce platforms are offering free assistance to businesses affected by the pandemic. Their offers may stay in place longer if the economies do not recover quickly. You will want to keep this information in mind as you launch or expand an online store amid the coronavirus outbreak. But whether times are good or bad, eCommerce can keep your small business going strong.
Choosing the Right eCommerce Platform for Your Product
Moreover, resources like Let's Talk About Money can also help you to find the right eCommerce platform for your small business needs. The best eCommerce platform for you will depend on the products and services you offer. Several top-rated platforms include:
Doba, Modalyst, Dropified, and AliDropship for drop shipping
SendOwl and Sellfy for selling digital products online
Kajabi for creating, selling, and marketing online courses
Big Cartel for starting and running creative businesses
Printful for printing on demand (POD)
Market Your eCommerce Store
Once you have created or expanded your eCommerce store, you will need to start marketing. You need to market consistently to help your eCommerce site keep your small business going strong. According to HubSpot, several popular marketing strategies for eCommerce stores include:
Social media marketing. Through your social media pages, you can promote your products and services with photos, product reviews, and shoppable content that drives traffic directly to your eCommerce store.
Content marketing. From creating video content and blog posts to optimizing the descriptions on your product pages, content marketing can help to drive new and existing customers to your online store.
Email marketing. In addition to using email communication to keep in touch with your customers throughout the pandemic, you can also use it to drive traffic to your online store. During the coronavirus outbreak, however, email communication should be reserved for essential updates only. Examples include the launch of your online store and shipping or delivery updates.
As you can see, an eCommerce store can help you to keep your small business going throughout the pandemic as well as other economic ups and downs — even when your brick-and-mortar location is closed to the public. However, the key is to select the best eCommerce platform for your small business needs. Having the right eCommerce store will help you to manage your sales and marketing from one easy-to-use location while serving your customers at any time of the day or night.