How the Local Library Can Help Entrepreneurs Build Their Business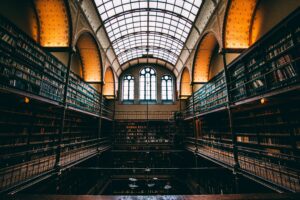 Entrepreneurs are always looking for new ways to leverage their ideas to new heights. Have you considered how the local library can help entrepreneurs build their business? Entrepreneurs will use any knowledge they can to get to that next level. While returning to school and learning from other business professionals is a great start, there are many other unique resources right at your local library. In contrast, a library may seem like the last place to look for ways to boost your business when compared to an internet search. Trust us!
Even though K2 teaches how to use technology effectively, such as K2's Everything Google course, sometimes a local library can be even more effective. Consider these tips on how small business owners can turn to local libraries to enhance their knowledge base.
A Place to Collaborate and Network
If you are looking for a place where you can get the quiet atmosphere and organization necessary to work on big projects with or without fellow entrepreneurs, you can't go wrong with the library. By signing up for a library card, you may have access to additional perks, such as large conference rooms, private spaces for client meetings, and free Wi-Fi.
Many libraries also have available hardware, including printers, scanners, and even laptops that will allow you to complete your work. Technology resources could be a great perk if you need to complete quick tasks and can be incredibly important if you don't yet have your own home office.
Libraries are also great places to meet other entrepreneurs, as many of them host networking events several times per year. Networking is essential for business professionals who have just started their companies. This could be a place where you meet new partners or find new employees when you need them. Call your local library to see what events they hold and when.
Of course, libraries are most known for the sheer number of books that can teach us anything, from how to develop a great business idea to how to market your products to the masses. The business section alone has many books on every aspect of entrepreneurship. A library card can give you access to everything.
In addition to books, libraries also have subscriptions, business databases, and online training modules that could be instrumental to the evolution of your company. If you are interested in a specific subject and are unsure where to find it, the librarian can get what you need.
If you are serious about learning all aspects of your industry, then a return to school could be the key. Obtaining your degree either in person or online could provide real-life examples and tips on doing everything from accounting to marketing and even how to communicate with your employees properly. Again, the library offers a great study space and plenty of reading materials to help you along the way.
Don't Forget the Librarians
Even though the library provides plenty of books and online resources, sometimes the best help an entrepreneur can use is the librarian sitting behind the front desk. They are experts on every resource in the building. Librarians can tell you exactly where you go to get what you need. They can also call other libraries if what you need isn't there.
Librarians could also be your secret weapon when it comes to staying competitive. Although most business information is free to the public, not everyone knows where to find it. Librarians are often responsible for creating, maintaining, and updating databases. To do that properly, they need to know how to search for anything. So, if you wanted to know sales information about competitors or new developments in a specific field, they could find that for you.
Hopefully, this has been an eye-opening look at how the local library can help entrepreneurs build their business. Local libraries can be a great free resource that could change your business for the better.
Are you looking for a competitive advantage? Consider the technologies in this article. Do you need to stay better organized, particularly with your inbox in Outlook? For event more courses with technology tips, consider this list.