How To Make Ends Meet and Save Money Doing It
Out Of Work Due To COVID-19?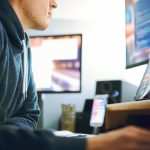 Record numbers of Americans are newly unemployed as businesses around the country close due to the COVID-19 pandemic. Countless Americans also live paycheck to paycheck. If you have unemployed clients, perhaps some of these ideas can help to make ends meet.
Suddenly finding yourself out of work is a scary predicament when you rely on each paycheck to keep a roof over your head
and food on the table. Instead of waiting until the coronavirus crisis is over to return to work, look for creative ways to make ends meet.
4 Ways to Keep Working During the COVID-19 Crisis
1. Deliver food and groceries
People with compromised immune systems and high-risk family members are relying on food delivery to stay safe during the pandemic. As a result, delivery drivers — many of whom work in the gig economy — have become a "crucial lifeline" to people in isolation, CNBC explains. DoorDash, Postmates, and Instacart are just a few of the gig economy platforms you can use to start earning cash.
Walking the dog has become a much-needed excuse to get out of the house during the lockdown, but not everyone has the luxury of taking strolls with their pooch. Taking over dog-walking duty for people in self-isolation is a fun way to boost your income. If you, too, are opting to stay indoors (a brilliant call if you're a senior), offer pet-sitting services instead. Keep in mind that you'll need to dog-proof your house before accepting your first clients.
School closures have left parents scrambling to meet their kids' educational needs at home. Unfortunately, homeschooling is hard to juggle for people still working full-time at an essential business or from home. Picking up a tutoring gig — remotely, of course — is an excellent option for educators, college students, and childcare workers looking to make ends meet.
With insurance claims spiking due to coronavirus, health, and life insurance, companies need employees to keep up with the increased workload. Luckily, many insurance companies allow employees to work from home, making this career an excellent pick for people who'd rather not venture out into the world. Start by researching highly rated insurance companies by their employees. Then look for an insurance job that fits your skills and interests. 
Budget-Friendly Tips for Starting Your New Job
These gigs can help you make ends meet, but what if you don't have the funds you need to get started? Whether you're walking dogs or working from home, you'll need the necessary supplies to do your job.
Buying interview clothes is a significant challenge with non-essential stores shut down, but you can still purchase professional outfits online. Skip the high-end stores and instead look to budget-friendly retailers like American Eagle Outfitters where you can put together a professional wardrobe for under $100 — less if you use promo codes and cashback offers to save!
Some companies offer free equipment or allowances for employees who work from home, but if yours doesn't, look to refurbished laptops for a low-cost computing solution. Since most laptops come with built-in cameras, you don't have to pay extra for a webcam. Plus, their portability means you can work from anywhere — great if you don't have a desk at home!
If you're working in the gig economy, you may need to up your car insurance coverage. Delivery services aren't covered by standard auto insurance. These services require a commercial policy. The good news? You can write off this added expense when filing your taxes. You can also save money on auto insurance by bundling it with other insurance and shopping around with different providers. Alternatively, some of the gig economy companies are providing the extra coverage needed during the pandemic and beyond.
If you need additional training during this time to improve your skills, consider sources like LinkedIn Learning, formerly Lynda.com. Remember that massive open online courses (MOOCs) like the Khan Academy provide an extensive library of learning opportunities. K2 Enterprises has a catalog of on-demand courses, too.
Finding yourself unexpectedly unemployed is never fun, especially when few employment options exist due to a nationwide lockdown. But while finding work in the current economy isn't easy, there are options for boosting your income to make ends meet during this challenging time. No matter where to turn for employment, make sure you're taking the right precautions to keep you and your family safe.