Recently, I needed to purchase a new data projector to replace my Epson PowerLite 1776W. I had used the 1776W for over five years and had a great experience with that device.  Because of that experience, I looked first at the current Epson product line for a  replacement. After a bit of research, I quickly decided to try Epson's PowerLite 1795F model. Following is my independent review of that device. Please note that I have not been compensated in any way by the manufacturer or any other company for publishing this review.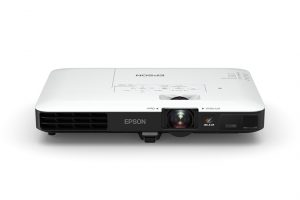 Key Features and Specifications
My usage of a data projector is perhaps a little different than that of many professionals. Principally, I use my projector when I'm traveling and delivering continuing professional education sessions for K2 Enterprises. Thus, the key features I need center on portability, outstanding picture quality, and quick set-up and take down. The Epson PowerLite 1795F delivers in all three areas. Further, with a retail price of $999.99, the 1795F provides exceptional value.
As to portability, the 1795F has essentially the same footprint as the 1776W. That is, it's length and width measurements come in at 11.5" by 8.5". This makes the unit only slightly larger than a sheet of paper. Further, the unit is only 2" thick and weighs just 4 pounds. Taken together, these factors mean that it fits comfortably in my backpack, easily satisfying my portability needs.
Quick Set-Up and Take Down
The 1795F contains multiple options for connectivity, facilitating quick set-up and take down. You can connect your computer or other data source via a VGA port, a HDMI port, or through a composite video port. The unit also provides a USB Type a port and a USB Type B port for additional connectivity options. And, in a world of increasingly wireless connectivity, the 1795F offers a wireless connectivity option using Miracast. With this feature, you can connect your computer to the projector wirelessly without relying on a WiFi connection. This, of course, assumes your computer supports Miracast connectivity. Should the need arise, you can also connect your smartphone, tablet, or other portable device to the projector. You can even stream content using Chromecast, Roku, and other MHL-enabled devices.
Most importantly, the 1795F really delivers in terms of picture quality. Despite its small footprint, the projector provides an exceptionally clear and bright high-definition image. The native 1080p (1920 x 1080) resolution allows you to present content to your audience in a full HD display. Additionally, the 1795F also offers up virtually all other standard image resolutions, making it ultra-adaptable to just about any presentation need you may have. Further, with 3,200 lumens of color brightness and white brightness, your audience will be able to see clearly, even in rooms that are lit brightly.
Setting up the 1795F was a snap. Upon removing the unit from the box, I found it to be quite intuitive to connect to my computer through the HDMI port, turn on, and re-size and re-focus the image. The unit also features Epson's automatic Screen Fit technology along with automatic vertical and horizontal keystone correction, which can further simplify and streamline setting up the projector.
Because my laptop supports Miracast, I was very intrigued by the built-in wireless connectivity provisioned through that technology. Miracast was not built-in to my previous projector; therefore, I had purchased a Microsoft Wireless Display Adapter and frequently used that adaoter to provision wireless connections to my 1776W. I was very pleasantly surprised by how easy it was to connect the 1795F to my laptop using the built-in Miracast support. This facilitates very fast set-ups because there is no need to roll-out an HDMI or VGA cable to connect my laptop to the projector.
I should also note that although I will likely not have the need to use the 1795W in this fashion, you can mount the projector in the ceiling and use it in either a front or rear display environment. Thus, the projector could be used as a fixed-mount unit, instead of a portable one.  
In my line of business, picture quality is everything. If participants in a training session have a difficult time seeing the image on the screen, then their learning experienced is diminished and they are less likely to be repeat customers. Fortunately, the 1795F really delivers in this area. The 3200 lumen, 1080p HD image generated by the projector is as clear and as bright as any I have seen, particularly from a portable projector. In sum, there's really nothing that the projector leaves you wanting regarding the image.
However, sound quality is another matter. Like many projectors in this class, speakers appear to be almost an after-thought. The 1795F's tiny one-watt mono speaker is, for all practical purposes, virtually useless except for small audiences in small rooms. If you have a need for sound, you would be wise to carry a Bluetooth speaker with you. For example, I travel with a  Bose Soundlink speaker and use that to provide a better audio experience.
Except for the audio issue outlined in the preceding paragraph, there's a lot to like about the Epson 1795F data projector, starting with picture quality. The HD imagery provided by the unit is bright, clean, and crisp and capable of satisfying even large audiences. Further, the small footprint and light weight of the device make the 1795F easy to take on the road. And you can set up the projector and connect it to your computer or other data source in a matter of seconds with the built-in wireless connection options. The Epson 1795F delivers a tremendous feature set at a very reasonable price point and I confidently recommend it if you have a need for a portable data projector.
Interested in learning more about end-user technology? Consider participating in a K2 Enterprises Technology Conference! For more information, click here or visit https://www.k2e.com/conferences/.