After over six years of uninterrupted service, I found myself needing to replace the Targus docking station I was using to connect my Surface Pro 4 to all my peripheral devices. So, like many, I navigated to Amazon.com and browsed the options available there. After a bit of studying, I decided to try Plugable's USB 3.0 Dual Display Universal Docking Station (model UD-3900). Following is my independent review of the product. Please note that I have not been compensated in any way by the manufacturer or any other company for publishing this review.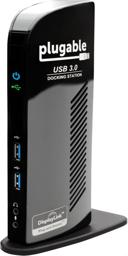 The Plugable USB docking station attracted me initially because it fit my needs exactly. More specifically, the UD-3900 offers the following features.
Hi-definition support for up to two external monitors
A gigabit Ethernet connection
USB 3.0 connectivity between the docking station and my computer
Two USB 3.0 ports on the front of the device and four USB 2.0 ports on the back of the device
Compatibility with Windows XP and newer (this device is not compatible with MacOS)
Stereo audio output and microphone input
Additionally, the docking station's video system uses DisplayLink technology. This  means that you do not need additional video cards to push high-definition video to your external monitors.
The manufacturer's suggested retail price for the device is $124.99. However, the "street" price available at Amazon and many other retailers is approximately $90.
I'm pleased to report that installing the docking station was quick and easy. After I removed the device from its' packaging, I connected my printer and scanner to two of the four USB 2.0 ports on the back of the device. I also connected the USB dongles for my keyboard and mouse to the other two USB 2.0 ports. Additionally, I connected my Ethernet cable to the Ethernet port on the back of the device, so that I would have wired Internet access. I plugged one end of the USB 3.0 cable included with the device into my computer. I connected the other end to the USB 3.0 port on the back of the docking station. 
Regarding monitors, I connected both of my 32 inch monitors to the docking station via HDMI cables. However, the docking station contains one HDMI port and one DVI port. Therefore, I used the DVI/HDMI adapter provided by Plugable with the device. This is, by the way, the same configuration I had with my previous device from Targus. Therefore, I was not surprised by the need to use the adapter.
Finally, I connected the power cable to the power port on the back of the docking station and plugged the other end into my uninterruptible power supply. Upon doing so, all my peripheral devices connected to my laptop and were ready for use. Start-to-finish time of the installation was less than five minutes.
I should note that all my devices had been connected previously to my laptop. Therefore,  I did not have to download and install any drivers or additional software. Of course, if any of the peripherals had not been connected to my computer previously, then downloading device drivers and installing device-specific software may have been required.
After working with my new Plugable docking station for one week, I can say that it has met my expectations thoroughly. On Day One of using this tool, I did notice that the performance of my wireless mouse (which connects through one of the USB 2.0 ports) was subpar. However, after I moved the mouse's dongle to another USB port, the performance of the mouse returned to an acceptable range. I have not made any other adjustments to my original installation of the device.
Before installing this docking station, I was slightly concerned that about the performance of the two external monitors.  Fortunately, those concerns were unfounded as the images on the monitors are crisp and clean with exceptionally fast refreshes.
As mentioned earlier, I have used USB docking stations in the past. Therefore, the concept of connecting all my work tools through such a device was not a new one for me. And, I had been satisfied thoroughly with my prior USB docking station up until it stopped functioning. Consequently, I was admittedly a bit reluctant to switch to a different brand. However, the Plugable USB 3.0 Dual Display Universal Docking Station that I'm now using appears to be a solid player, delivering exceptional performance at a very modest price point. Accordingly,  in my mind it earns a "five-star" rating.
You can learn more about this device at Plugable's website: https://plugable.com/products/ud-3900/. 
Interested in learning more about end-user technology? Consider participating in a K2 Enterprises Technology Conference! For more information, click here or visit https://www.k2e.com/conferences/.