Product Review - Zoho Finance Plus
Many applications and services exist for small to mid-sized businesses to improve their accounting processes and workflows. Some continue to use legacy desktop and client-server applications, but a growing number – perhaps the majority – have transitioned to the Cloud as the backbone of their platform. One such platform is Zoho Finance Plus, a collection of apps that offer an incredible array of features and a surprisingly low price point. So read on, and in this article, you will learn more about Zoho Finance Plus.
Zoho Finance Plus - An Overview
Zoho Finance Plus is a collection of six applications that integrate to provide a feature-rich accounting and business management platform. Included in these six applications are:
Notably, you can subscribe to each tool independently without subscribing to the entire platform. For example, suppose your company's needs are relatively straightforward. Therefore, you may decide that Zoho Books is all that is necessary, and, in that case, you can subscribe to Books for pricing ranging from free up to $240 per month, depending upon the number of users you require and features you need to run your business.  Further, similar "a la carte" prices exist for the other applications.
However, the real power of Finance Plus shines through when you choose to acquire and implement all six apps. In that environment, you can access features and functions not available in many applications, particularly at Finance Plus' price point. Further, should you choose to subscribe to the entire Zoho Finance Plus suite, you will see that pricing begins at $199 per month for up to ten users, and you can add additional users for $7.50 per month per user.
Key Features Available In Zoho Finance Plus
In addition to aggressive pricing, you will notice that the feature set available in the Finance Plus suite is extensive. Following is a list of some of the many features you can access in Finance Plus.
Automated approvals and workflows. You will notice many opportunities to create and enforce approval processes and workflows throughout the platform. You can enable these features to enhance internal accounting controls by ensuring that transactions possess management's general and specific authorization. Further, you can activate notifications that alert designated individuals of particular types of transactions entered into Finance Plus, again enhancing internal controls.
Customer and vendor portals. Many customers and vendors in today's fast-paced business environment prefer real-time, on-demand access to all relevant information in their accounts. With Zoho Finance Plus, you can enable customer and vendor portals to enhance trading partner satisfaction with your company. For example, should you choose to enable customer portals, you can allow customers to access and pay invoices directly through the portal. Further, with this access enabled, customers can see their account's history and correspond with you through the portal. And you can enable similar functionality for your vendors by activating vendor portals.
Scanning transactional documents. Finance Plus enables a tremendous amount of automation. An example is the suite's capacity for scanning transactions, extracting relevant details, and entering those details directly into the platform. The apparent advantage of using this feature is recording transactional data into the system quickly and accurately while reducing human intervention and labor costs.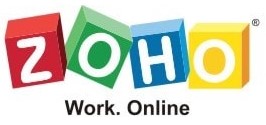 Multi-warehouse inventory. For companies that require inventory management capabilities across multiple warehouses, the Inventory app in Finance Plus facilitates that need. With that option enabled, you can establish numerous warehouse locations and track inventory at the warehouse level quickly and easily.
Support for subscription billing and accounting. A growing number of businesses bill their customers based on subscriptions. Included are software firms, information technology support firms, professional service organizations, and maintenance and service businesses. In addition to issuing invoices and collecting accounts receivable, these companies often require special reports to help them effectively manage their organizations. With support for subscription billing and accounting, Finance Plus addresses the unique needs of these businesses so that they can spend more time on growing the business and less time on manual reporting processes.
Customized price lists. Many organizations – particularly wholesale businesses – negotiate customer-specific pricing with the customers and prospects. The Finance Plus suite supports this process by allowing you to create custom price lists for each customer, client, and prospect. With these price lists in place, you ensure that each customer's invoices are correct and reflect the agreed-upon pricing.
Cloud-based platform

. Zoho Finance Plus is a Cloud-based platform. As such, team members can access the suite anytime, anyplace, and from virtually any device, as long as they have an adequate internet connection. Therefore, this feature helps to support the remote work environments found in so many businesses today.
Far from an exhaustive listing of all the features and tools found in Finance Plus, the above highlights provide an overview of what's available in Zoho Finance Plus. And with a highly competitive price point, you will notice that platform is an affordable solution for virtually every organization. Therefore, if you are considering switching your accounting platform or are merely interested in seeing what's available, you should look at Zoho Finance Plus. You will likely be pleasantly surprised by what you see.