Ten Tips For Effective Online Meetings
Without question, online meetings are here to stay. Almost all organizations use tools such as Zoom, Teams, WebEx, and others for meetings involving both internal and external parties. So, given that reality, what can you do to energize your online meetings and make them more effective and productive? Read on, and in this article, you will learn ten tips for effective online meetings.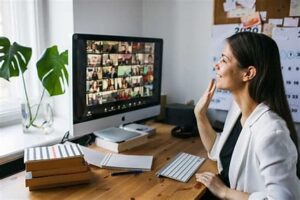 1. Distribute And Follow An Agenda
At least 24 hours in advance – preferably earlier – distribute an agenda so that participants can plan for the meeting. Providing an agenda allows participants to prepare appropriately, contribute content, and answer questions raised during the session. Without an agenda, participants join the session "cold" and are less likely to be able to provide meaningful contributions to the session.  
2. Test Your Technology In Advance
Perhaps nothing frustrates participants more than a team member joining a meeting when their technology is not functioning correctly. Therefore, ensure you test your technology before the meeting's start time. Specifically, test your microphone, speaker, and webcam to ensure that you can be seen and heard and also that you can see and hear other participants. Additionally, if you have a sluggish Internet connection, consider disabling your webcam so that other participants won't become distracted – or annoyed! – with a sputtering or frozen video feed.
3. Utilize Screen-Sharing Options
Don't just talk during the meeting! Instead, share your screen and show participants meaningful documents, videos, and slides to reinforce the topics of conversation. Additionally, you should periodically display the meeting agenda can gauge the meeting's progress relative to the time allocated.
4. Direct Questions To Specific Participants
Don't be afraid to direct questions to specific participants. After all, if you distribute an agenda before the session, everyone should prepare accordingly to engage in a meaningful conversation. Of course, we're not seeking to embarrass anyone, but directing questions to meeting participants is a great way to ensure everyone enters the meeting prepared and remains engaged in the conversation.
5. Take Detailed Notes And Distribute Them Afterwards
Memorialize the meeting by taking detailed notes of what transpired during the session and distributing the minutes after the session is over. You should document critical points discussed during the meeting, including attributing each to the individual(s) who raised them. Also, your notes should include action items, including who is responsible for completing each item and the items' target completion date. One advantage of distributing an agenda beforehand is that it provides an excellent framework for taking detailed notes of what transpired during the meeting.
Enabling your webcam – and requesting other participants do the same – likely increases each person's engagement. When participants know they are visible to others, they will likely remain more engaged during the meeting. Of course, before you enable your webcam, you may want to clean up your workspace or use a virtual background to present a more professional and polished image. Most online meeting tools offer a variety of virtual backgrounds, or you can create your own, perhaps even including your organization's logo for branding reinforcement.
Sharing your desktop during the meeting is an effective way to keep all participants engaged. For example, if the topic of conversation is a specific report – a balance sheet, for instance – share your desktop and show the statement while everyone discusses it. This action helps to ensure that all participants focus on the same document at the same time.
8. Engage By Showing Reactions
Most online meeting platforms allow participants to express their thoughts visually through emojis. Assuming your meeting platform offers this functionality, you should take advantage of it to share your opinions and reactions without interrupting another presenter. For example, suppose another participant in your meeting is being recognized for an outstanding accomplishment, and you want to let them know that you are happy about their success. Clicking a "thumbs-up" emoji is a simple, unintrusive, and effective way of showing your support without interrupting the meeting.
9. Spotlight The Speaker's Video
If your meeting platform supports this feature – and most do – enable the feature that highlights the video feed for the current speaker. This option is particularly effective when you have a relatively large number of participants involved in the meeting. With this feature enabled, your meeting platform highlights the video feed of the active speaker, making it easier for everyone to see who is currently speaking. Therefore, meeting participants will spend more time focusing on the message and less time deciphering who is delivering the message.
10. Choose An Appropriate Video Layout
If you have a relatively large number of participants in your meeting, you should consider altering the video layout. By default, most online meeting platforms organize the video feeds of each participant in a grid. For example, Microsoft's Teams offers a "Gallery" view that shows up to nine participants in a "grid" view. However, you can switch to a "Large Gallery" view that allows you to see up to forty-nine participants. Further, you can switch to "Together" mode in Teams to provide a less formal, more relaxed way of showing participants' video feeds.
Again, online meetings are here to stay. And while the ten items listed above are far from an exhaustive list of all the things that contribute to an effective online meeting, following these guidelines will help you and your organization have more efficient and effective meetings. So, whether you are a meeting organizer or a participant, use the ten tips for effective online meetings to make the most of this "new normal."
Interested in learning more? Participate in a K2 Enterprises training class! CLICK HERE for more information.