The following post was written by Valerie Silvani, Vice President of Sales and Marketing at Gravity Software.  Valerie was kind enough to allow us to share it with our readers.
So, what is a business workflow engine? In the simplest terms, it's a system that automates business processes. Workflow engines allow me to be more creative and focus on more important tasks. For instance, I get an email notification when a client adds new accounting users and it sends a thank you for me. Workflow automation allows me to be proactive instead of reactive. It can be amazing!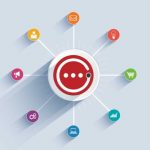 Well, I work for and use Gravity Software™ (Gravity). Gravity is the only cloud accounting solution built from the ground up on the Microsoft Power Platform (aka Dynamics 365 CRM). Gravity brings the application that runs your accounting together with the familiar Office apps you already use and know. Dynamics 365 is a very open and robust platform that allows users to pick and choose which modules they want to include for their business. For example, my company has Financials from Gravity, Sales and Marketing from Microsoft, and Marketing Automation from ClickDimensions. Why did I mention this to you? Because in this environment, I have only one database to manage with all of my apps on one platform.
Complex Workflows Made Easy
What if you could create complex workflows in your business financials by just clicking on a menu? Many systems have hard coded business rules, but don't give you any options to select your unique business processes. What if you wanted bills from vendors over $500 to be approved by the correct department head? What if you needed to route the approval through email so remote managers can access information with one click? Let's get more complex and require 2 or 3 approvals at higher amounts. What if you could set this up in 10 minutes with no help by just selecting options from a menu?
You can easily create workflows for any type of scenario. Like notifying a customer when a credit card is about to expire. Reminding a vendor, that they need to send W-9 information. I get email notifications when a prospect requests a demo. I also get calendar alerts when tasks or activities are due, and reminders the next day if they are not complete. The list is endless. Workflow automation improves overall efficiencies by eliminating the manual time-consuming processes.
Why not reduce your business process time by creating workflows to follow up on a lead, or streamline your purchase order approval process?  Solutions such as Gravity make it simple for businesses to operate from anywhere, at anytime without all the startup costs associated with other accounting systems. The benefits include enhanced internal control, better customer/client relations, and the potential for improved profitability. Given these opportunities, what is holding you back?
Are you interested in learning more about accounting software selection processes? Join the K2 Enterprises team at one of our technology conferences to get the information you need to help make the right decision. For more details, click here.