Software vendors want you to pay for your products monthly. You can see this shift with Microsoft Office 365 and with Adobe Acrobat. The traditional model of purchase the software and paying 15-25% annual maintenance is by and large gone. This isn't necessarily good or bad, it is just what it is. However, there are some direct benefits to supporting the vendors' desire for a recurring revenue model. As accounting professionals, one of our duties is to act ethically, and violating a software license agreement is considered an ethics violation.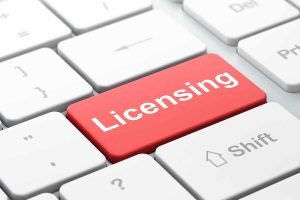 is the firm properly licensed?
Computer software and hardware products alike have license agreements. Acquiring hardware is done one of two ways: purchased outright or leased. When hardware is purchased, it can be used for an extended period without additional charges. This may be a reasonable strategy if the hardware is not used too long. On the other hand, leased hardware must typically be returned. Some leases are "technology refreshes" which provide replacement products near the end of the agreed to lifecycle, which is typically three or four years. Most hardware vendors sell OEM (Original Equipment Manufacturer) licenses for a few dollars with the purchase. OEM licenses are restricted and can't be used in centralized computing (RDS, Citrix, or VMWare Horizon View) virtual desktop deployments, mass image deployments (WDS or SCCM) or on any other piece of hardware. If you have been buying hardware with OEM licenses and follow IT best practices of centralized computing or mass deployments, you may be violating the license agreements.
It is hard to keep track of licenses if you have used traditional software license agreements with their maintenance option. In the Microsoft world, these are known as Open License Agreements with Software Assurance. While OL/SA agreements have normally been less expensive that Office 365 or OEM licensing strategies, many organizations purchased Open Licenses without including Software Assurance. Software Assurance provides: upgrades, use at home privileges, support, mass deployment and virtualization capabilities. A purchased Open License can be used perpetually with no further cost, but if Software Assurance was not purchased and continuously maintained, if you needed to upgrade you had to purchase the Open License again. Since many organizations did not understand both the benefits and lower costs of OL/SA over a longer period, the appropriate licensing was not maintained. In the Microsoft world, it is typically cheaper today to purchase Office 365 than to repurchase through an OL/SA agreement.
Further, vendors like Microsoft routinely perform software license audits to assure your firm complies with the license agreement. Typically, Microsoft had performed audits when an organization was reported to be abusing their license agreement or on a three to five-year cycle. Microsoft found many firms not complying with the license agreements and was richly rewarded with additional licensing revenue which was clearly owed. Once the audits had a history of providing more revenue, Microsoft stepped the cycle up to an audit every year or two. A software license agreement can make it easier to prove that you have licenses for all the users and their hardware, which includes tablets and smartphones.
Most software vendors have a similar strategy. Adobe, Intuit and more want you to be compliant with your software licensing. The terms of the software license agreements typically change annually but can change many times within the year. Your organization should comply with the license agreement on the date of your renewal. For example, the current Microsoft Server and SQL licensing requires a license per core and there are many cores on a typical server, whereas the previous license agreements allowed for use across all cores. This was a way to increase the revenue to Microsoft and drive up your costs. Hosting vendors must remit similar fees to Microsoft for licensing and may raise your rates to cover increased licensing costs.
How Can We Be Sure Our Licensing Is Correct?
You should be able to associate a user with a specific license. This license may or may not be used on multiple pieces of hardware, depending on the license agreement. If you can't specifically associate a user with a license, you may have an issue. There are software utilities that your IT team or managed service provide can use to pick up software license numbers and hardware identifiers. Likewise, if you are the software license administrator for your firm, you can see the license allocations in the console of your products. If none if these methods work for you, resort to the old manual way of using a spreadsheet to track the user, the license number and the purchase date. By the way, keep your invoices for all software purchases because some vendors require that you provide the invoice to prove that you have made the purchase. This is particularly difficult after a large-scale disaster when all your records have been destroyed.
While most of you count on your IT team, hosting company or external provider to provide the right licensing, in the end, you are responsible. Improper licensing can be an unexpected expense. Don't make this error!
About the author:
Randy Johnston is a shareholder in K2 Enterprises, LLC, a leading provider of CPE to state CPA societies.