Ace Cloud Hosting is a Pompano Beach, Florida-based hosting provider that focuses on providing hosting services into the accounting industry. Founded in 2004, the company has expanded and improved its service offering beyond simply hosting applications such as QuickBooks into more sophisticated offerings such as private server hosting. Further, while Ace's primary focus remains on the accounting industry, the company now serves other professions, including law firms and real estate professionals.
An integral component of Ace's service offering is the company's dedication to security. To help address some of the concerns of existing and potential customers, Ace incorporates items such as Remote Desktop Gateway, multi-factor authentication, and a 100-day rolling backup into its business model. Coupled with guaranteed 99.999% uptime, high-performance computing, and embedded business continuity and disaster recovery, Ace provides a hosting platform that is not only secure, but also reliable. To facilitate this, the Company utilizes six data centers, appropriately dispersed throughout the United States, as shown in the following chart.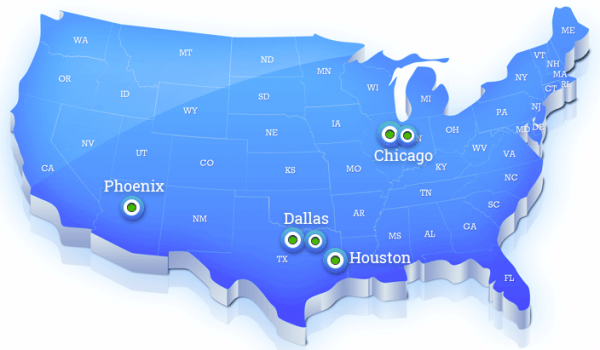 Ace's service offerings focus on three areas: 1) QuickBooks hosting, 2) Other application hosting, and 3) Server hosting. In the QuickBooks hosting arena, Ace hosts all versions of QuickBooks desktop applications: Enterprise, Accountant, Premier, and Pro. Additionally, Ace hosts QuickBooks Point of Sale. Advantages of running QuickBooks in a hosted environment include anytime, anywhere access, collaboration with other users, improved performance and stability, and the potential for reduced technology costs.  Hosting fees range from $34 per user, per month, to $49 per user, per month. Additionally, each user must pay a $5 per month charge that is passed on to Intuit. For those who might want other applications such as Excel or Outlook hosted, this can be done for $5 per application, per month. In all instances, Ace customers provide valid software licenses. For more information on pricing, please visit https://www.acecloudhosting.com/pricing/. 
What Exactly is QuickBooks Hosting?
In addition to hosting QuickBooks, Ace provides hosting options for other applications. These include tax applications, accounting applications from Sage Software, Microsoft Exchange, and Office Tools. In the tax application arena, Ace can host many popular tax application tools used by smaller public accounting firms, including Drake, ATX, ProSeries, Lacerte, and  ProSystem fx. Regarding accounting solutions from Sage, Ace hosts Sage 50, Sage 100 ERP, Sage 300 ERP, Sage 500 ERP, Sage 100 Contractor, and Sage 300 CRE.
The last of the three major services offered by Ace is server hosting – both private servers and virtual managed servers. Each of these services is designed to help small and emerging businesses focus on what they do best, which is usually not performing information technology functions such as managing servers. By moving servers to the cloud, many companies are able to realize benefits such as improved security, automated backups, better performance, around-the-clock support, and lower costs. Pricing for server hosting begins at $75 per month.
Differentiators for Ace Cloud Hosting
The application and hosting market is a very competitive one, with many viable options available to most businesses. Following is a list of features provided by Ace that differentiate its' services from those provided by many of its competitors.
100 day rolling backup policy
99.999% guaranteed uptime
High performance computing with Solid State Drives
Embedded Business Continuity and Disaster Recovery
Multi-factor authentication
Only hosting provider that offers QuickBooks Point of Sale and ATX tax software in multi-user mode
Remote Desktop Gateway for additional protection from malware
Ace Cloud Hosting
2637 East Atlantic Boulevard, #23519
Pompano Beach, Florida  33062
1-855-223-4887
www.acecloudhosting.com