On March 4, Microsoft will roll-out a security enhancement to Outlook for iOS and Android. This update will help you to protect sensitive information from leaking outside your organization. More specifically, the update causes the Outlook mobile app to supply a MailTip alert that you are sending a message to recipients outside of your organization. The Outlook app will also display the alert when replying to a message that includes external recipients.
As shown below, the MailTip "Replying to external recipients" will appear near the top of the message. This MailTip appears only on the sender's screen and is not visible by recipients of the message.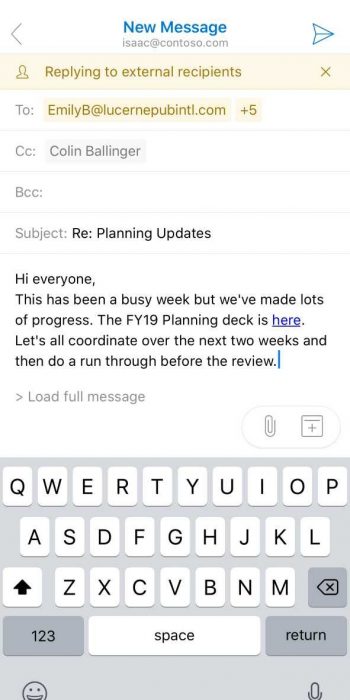 Initially, Microsoft will release the update to Outlook for iOS and Android users with the new feature turned OFF. However, on March 4, Microsoft will change the default setting to ON. Once enabled, the feature will display the MailTip whenever there is a recipient that is outside the organization.