5 Small Business HR Trends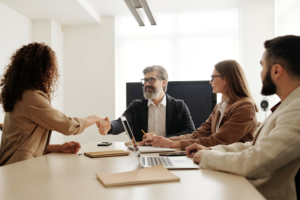 The Human Resources field is fast-changing. As a result, with more people competing for the same roles, it's up to you to assess who fits your company. These 5 Small Business HR Trends will help you position your firm better to get the right people.
Knowing what works in human resources can give you the edge you need. Finding the right people for your company means knowing where to look, what to do, and the risks associated with the search.
Here are 5 small business HR trends you need to look out for. All these can promote your growth and give you the best talent pool that fits your needs.
1. Stronger Onboarding, Better Offboard
As you're considering your onboarding and offboarding process, there are a few important elements that can make the entire process easier. From expanding internal talent mobility to longer onboarding journeys, the most valuable trend you will start seeing is the need for solid pre-start training and stronger offboarding.
For onboarding, pre-training is vital to accelerate your fresh hire's productivity index. HR departments are looking to improve pre-start training, as well as helping their talents connect through more extended admin and team introduction. You can also expect the company to look towards more virtual meetings for their growing remote workforce.
As for offboarding, you want to make sure that the entire process of parting with employees is as sensitive and amicable as possible. If you're a small business, you want your ex-employees to remember your team fondly, even in the face of separation. In addition, you want ex-staffers to help spread a good reputation, especially if you plan on headhunting.
2. Improve Agility with Freelancers and Proper Compensation
The pandemic has changed the way people look for a job. Human resources needs to keep up with this process. Your HR team needs to do whatever it can to ensure you're never short-staffed for the productivity you need for a small business. With that said, there are a few changes to make now.
You would need to consider pulling in part-timers for starters, especially if you have seasonal peak business traffic. Even hiring freelancers can be helpful if you need a certain level of agility if the hiring cycle is taking too long. Freelancers are great for project-based tasks, as well as getting a quick infusion of expertise without outright hiring.
For small businesses, especially if you're a financial organization, you need to remember that proper compensation drives headhunting efforts. You want to be different in a new normal where people understand their value and won't take below the minimum. So, keeping a good balance of compensation and job security needs delicate focus.
3. Social Media Hiring Is Getting Bigger
Social media has become one of the most significant places to hire some gems in the rough willing to work for small companies. Further, social media hiring is on the rise. It can help smaller businesses build wider networks. The challenge to human resources is how to utilize this process while avoiding its legal and ethical issues.
The problem with hiring in social media is the potential bias that may come out from seeing the job searcher's profile. Of course, your attitude can be anything taken from Facebook, Twitter, or LinkedIn, but an implicit bias may form from seeing a potential employee's online behavior.
As we know, lifestyle, age, gender, and race are among the protected classes by law. There's also the potential to perform pre-employment background checks by accident, which can be an issue under the Fair Credit Reporting Act.
At the same time, you want to be careful with the potential for negligent hiring. On the other hand, you want to make sure that the person you hire does not become a trouble for the business. This careful balance is a must if to have an impartial hiring process for finding suitable candidates.
4. HR Teams Need to Look Towards Holistic Well-being
Before the COVID-19 pandemic, one of the growing trends was testing for office setups that maximized productivity. Unfortunately, many of these were fads with no long-term value or events that only satisfied visuals and nothing more. Now, small businesses need to take good care of the health of their employees – both physical and mental.
Employees are experiencing more stress than ever. The pandemic increased people's pressure, together with familial concerns, job security, and productivity expectations. These make people feel burnt out and, together with potential health issues, create a dip in their well-being.
Apart from building skills, human resources teams now need to commit to helping their employees' holistic health. A holistic view includes improving their mental health and teaching them additional life skills that enhance their outlook. Whether it's better teambuilding, financial planning, or promoting connectivity, helping employees feel engaged can improve overall retention.
5. Cloud Automation is the Future of HR
HR departments are going away from paper trails, printed documents, and physical folders. Instead, companies are pushing towards automating their systems via cloud, with automation towards workflow, recruitment, and leave management software. As a result, human resources are leaning more on technology, and it's not changing any time soon.
Competing for the attention of valuable talent means faster processing and digitizing as much as possible. Moving to the cloud as soon as possible can help give you the level of agility your small business needs to compete. Small business HR needs efficiency, as well as better technological innovations.
Cloud-based automation can improve employee attrition while reducing costs for the business. It also helps with the general compliance requirements of the company, including management of legal requirements for hiring.
Privacy requirements and business regulations are ever-changing, and consistent compliance is possible with the right technology.
Now is the time for human resources teams to inspire their teams. You can push for better practices that will help towards better retention, brand reputation, and overall worker health. As you cultivate more meaningful relationships for your small business inside out, it is up to your HR to drive its recruitment to the next level. We are confident that these 5 Small Business HR Trends will help you position your firm better to get the right people.
Follow these trends and make the most out of the people you hire. In today's world, it's hard to get the right people to do the job. As companies recover, you want to be on top of things from onboarding to offboarding. Each extra mile you take pays dividends for brand growth down the line.