Automate Regulatory Compliance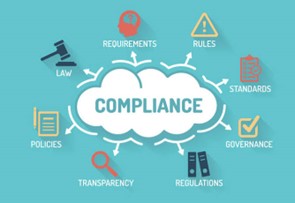 Businesses are required to ensure compliance. So, why not automate regulatory compliance? One simple compliance automation is with these 3 steps to ensure compliance is working properly on your website. The majority of businesses have a website where they can "meet" their consumers and gather and measure user data in some form. For instance, this occurs regardless of whether they conduct the bulk of their business online or offline.
You must be aware of the most important regulations currently in force and the data laws that apply specifically to your website to be compliant.
Organizations now have the chance to manage their websites efficiently while being compliant – by implementing automated compliance solutions. Additionally, automated compliance improves productivity, website performance, and the quality of work. Consequently, this gives businesses a stronger competitive edge.
By automating compliance decisions, workflows, and reporting, compliance automation improves an organization's capacity for risk management.
Why is compliance automation essential?
Automated workflows, decision support, and trigger-based notifications minimize the need for numerous ad-hoc manual communications such as email, phone calls, and in-person meetings.
Above all, compliance is a crucial component of commercial and operational success. For example, in this age of expanding financial and non-financial laws, compliance automation enables businesses to meet the increasingly high expectations of their customers.
Benefits of compliance automation
Improved website performance
Increased decision-making ability due to instantaneous, real-time risk assessments
Saves time and cost on every level of the compliance process, allowing the organization to concentrate on more strategic areas
Reduced number of compliance incidents
Consolidated data can be displayed in a single control center
Uniform compliance process across the entire organization and website
Accurate and effective management of the organization's and website's potential risks and vulnerabilities
3 Steps to ensure automated regulatory compliance is working correctly on your website
1.     Understand the reach, audiences, and applicable regulations of your website
Firstly, and prior to anything else, you must be aware of the compliance standards and laws that apply to your website, company, and industry. This can appear evident at first glance. For instance, HIPAA compliance is a must for any healthcare provider or covered entity doing business in the US.
Knowing what your regulatory frameworks are will be the first step in using compliance software to apply and enforce them.
Secondly, you should understand your website's reach, audiences, and applicable regulations. What about laws that are specific to each state? Consider a company that has operations in numerous countries or regions? What if a customer or website visitor comes from the European Union even though your company is in the US or Canada?
2.     Effective integration of compliance automation on your website
One of the most frustrating aspects of compliance for employees is how frequently it seems to interfere with their workflows.
Integrate compliance automation technologies in a way that has little to no effect on workflows. Additionally, deep integration guarantees that any changes that can lead to non-compliance are instantly flagged.
Furthermore, addressing Vendor Risk would be beneficial. If the supply chain is not secured, even the most secure company in the world could become vulnerable. Like computer endpoints, your vendors and business partners are a part of your ecosystem. Therefore, you must have multi-tenancy support in any automation compliance system you deploy.
3.     Take into account the comprehensive business strategy
We have moved past the time when several programs and departments could function independently of one another. Therefore, your integrated risk management and GRC strategy should include your compliance automation. And the end objective of this strategy should coincide with your business's strategic goals.
Additional tips for enhancing automated regulatory compliance on your website
1.     Track website changes
Automating compliance allows you to easily monitor website changes. For example, you can track changes to dozens or hundreds of web pages. This will help boost website performance and availability while also ensuring regulatory compliance.
You can also integrate the automation compliance system to monitor changes on password-protected pages or other content that requires form submission. As a result, your customers and website visitors will also benefit from comprehensive, quick, and precise website change detection.
In addition to keeping track of web users, tasks, and activities, a comprehensive compliance workflow management system also maintains documentation.
2.     Segment data
An example of segmenting data is the development of automated algorithms that separate information according to the legal ownership of data. After that, segment further according to the features or content of the data.
Categorize more by possible uses for the data in question. For instance, a possible use is whether or not the data has a feature that could make it a potential target for hackers.
3.     Password security
Managing login credentials is another area in which automation helps with data protection. One of the biggest threats to modern internet businesses is weak passwords. But weak passwords are also one of the easiest things to avoid.
Employee passwords should be changed when a compromise is suspected. Automatic notifications and lockouts, if they forget, can stop many common password problems. A managed PKI solution will help IT teams maintain visibility and control over their digital certificates. A PKI Solution promotes staying secure while ensuring minimal service and availability interruptions. Two- or multi-factor authentication can also help stop hackers from gaining access to company systems, websites, and information.
High-tech solutions are necessary for today's compliance concerns. Meanwhile, as technology develops, data privacy rules also evolve and grow. Indeed, a flexible, automated data and identity management system will be essential for organizations and their websites. As a result, high-tech solutions will help, considering the continual emergence of new regulations and threats.
Above all, there is a good reason to implement continuous compliance. Ideal solutions will facilitate the management. But they won't eliminate the requirement for ongoing evaluation, assessment, and revision of your strategy. Certainly, there will always be a new tool, a new law, or an operational change that requires your attention. If you automate regulatory compliance, you can focus on your business. Freely giving such attention to your website and business while maintaining regulatory compliance is made simpler by automation.
Need help learning how to solve your business's accounting technology needs and selecting the right software for accounting or CPA Firms? Visit us at k2e.com, where we make sophisticated technology understandable to anyone through our conferences, seminars, or on-demand courses.
Many of the ideas in this article came from Peter Bray. Peter is an AI practitioner with a keen interest in competitive intelligence and web change monitoring. He is the CEO of Fluxguard.