The Importance of CRM to Manage and Grow Your Business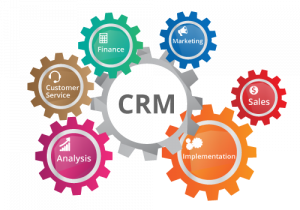 Higher client expectations and economic demands are causing firms of all sizes to re-evaluate how technology can help them strengthen client relationships and grow their practices.  Above all, customer relationship management (CRM) systems can help you manage and grow your business.
CRM for Business Development
As businesses focus on improving efficiency and increasing productivity, they also need to ensure that their business development efforts are as effective as possible. A well-integrated customer/client relationship management (CRM) system supplements practice management initiatives. In addition, CRM pays significant dividends with improved client retention, direct referrals, and new client acquisition.
Firms that incorporate a CRM system consider it an essential part of their competitive strategy. In other words, CRM provides these firms with reliable and centralized client data, strategic marketing advantages, and improved client satisfaction.
Once considered a luxury reserved for large enterprises, CRM software has become a critical component for success that is accessible to any firm. More importantly, your CRM needs to be available from anywhere, at any time, and on any device.
What is CRM? (Customer/Client/Contact Relationship Management)
CRM software offers a central resource to track and manage all of your firm's critical information. Vital information includes pending and past business transactions, inquiries, communications, as well as projects, schedules, and client interactions. Plus, anyone speaking with a client or prospect can refer to the CRM contact record and immediately know everything they need to respond appropriately and answer the client or prospect questions.
For a small firm, CRM helps the firm to grow. CRM ensures that every client and the prospective client gets a timely and appropriate follow-up. Additionally, meeting deadlines are more manageable, and interactions of every kind are managed and documented. Perhaps most importantly, this data is organized and retained as a company asset.
For larger firms, CRM enables all the above in addition to standardizing and managing the new client acquisition process. CRM provides direct oversight and reporting capabilities for managers and partners.  Similarly, business development forecasting and analysis is another critical mechanism to plan for and maximize growth included in some CRM platforms.
Firms used to consider this type of centralized and comprehensive information resource a desirable option. Business speed increases and the amount of data grows. Above all, CRM has become a necessity for all firms that need to do more with fewer resources.
With a sound CRM system in place, firms can expect to increase revenue, reduce costs, and improve cashflow. All client, prospect, vendor, and employee information are centralized. Therefore, CRM provides business continuity when you experience employee turnover. After that, your business information becomes a precious business asset.
Your CRM system becomes your source of knowledge.  Further, your CRM tells you your most valuable business source referrals, and where to focus your marketing efforts. Similarly, whenever you pick up the phone or send an email, your CRM system becomes your information hub. CRM is where you and your team go for information. You immediately know who it is you're engaging, how you know them, what they were promised, what was delivered, and even know if there is a balance due on the account. With CRM, firms can maximize productivity, manage workflow, and ultimately stay competitive.
No one needs a case study to tell them that it is time-consuming and even frustrating to search for a document and access current financial information.
When the CRM incorporates Document Management capability, you have an almost complete contact record. All your client-related documents and notes are in one place. In addition, the time savings and improvement in client service are significant. Importantly, you eliminate the need to look in different places for all client-related information.
Staff accountants and bookkeepers report that they spend too much of their time preparing reports for sales and management personnel. And sales and management team members complain that the account information they have is rarely up to date enough because they must wait for accounting to provide periodic reports. A CRM system that properly integrates with your accounting system will give everyone in the organization visibility to the data they need. Further, you protect confidential financial information without giving them full access to the books.
When a CRM Solution integrates with your accounting system, the CRM system becomes all-encompassing to the data that matters from communications to operations to finance. CRM empowers firms to respond to client requests and sales opportunities with high speed and efficiency. CRM increases effectiveness regardless of whether used in a small business or the largest, most well-staffed corporation. Examples of CRM systems integrated with accounting systems include DoMoreCRM and Zoho CRM.
Firms use CRM to stay competitive and become more productive. CRM is useful for managing workflow, improving client satisfaction, and maximizing business development efforts. If you are not currently using CRM, this may be an excellent time to consider the many benefits to your firm in implementing an integrated CRM solution. You will be amazed at the positive impact CRM has on managing and growing your business.