Microsoft's June 2019 update to Power BI was a significant one in many regards. Not only did Microsoft radically overhaul the user interface, they added many new usability and performance features, too. In this article, we will explore some of the biggest changes made available in the June 2019 update to Power BI.

No doubt, the most striking change in Power BI is the new, lighter-colored user interface shown in Figure 1. This stands in stark contrast to the darker working environment previously found in Power BI. According to Microsoft, the updated user interface exists to make Power BI look more like Microsoft Office and additional changes to the user interface will further harmonize the appearance of these applications.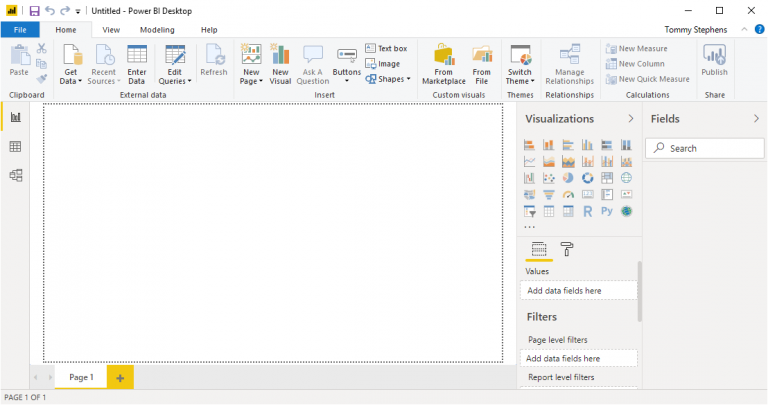 Visual Level Filters on Slicers
Also added to the June 2019 update to Power BI is the option of refining your Slicer filters with other visual level filters. Thus, if you incorporate Slicers into your report, you can limit the number of options that appear to, for example, just the Top 10 items in the Slicer filter list.
Improvements to Performance Analyzer Pane
When working with large data models in Power BI, ensuring acceptable performance is a must. To that end, Microsoft added the Performance Analyzer Pane in the May 2019 release. You can use the Performance Analyzer Pane to assess the performance of your report and identify any potential bottlenecks that might impact the speed and stability of the report and related data. You can access the Performance Analyzer Pane from the View tab of the Ribbon in Power BI Desktop. Upon doing so and running the tool, you will see results similar to those shown in Figure 2.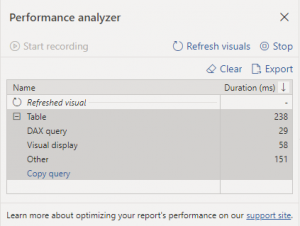 Conditional Formatting Improvements
Like in Excel, conditional formats in Power BI are formats that change as the conditions in the report or dashboard change. For example, you could create a conditional format in Power BI that causes a number to display in green if it is greater than $10 million, but in red if the number is less than $10 million. June 2019 improvements to conditional formatting in Power BI include the ability to apply conditional formatting to:
Background colors in tiles and a visual's title font and background color;
The data label and category label colors in cards; and
The fill color of a gauge chart.
Incorporating conditional formatting into your reports and dashboards can increase readers' comprehension of the data presented.
Consistent Font Sizes Across Applications
A minor – but certainly welcome! – update to Power BI is that font sizes are now consistent throughout the application. In the past, you may have noticed a font size of "10," for example, but in some cases that meant 10 points, and in others in meant 10 pixels. Unfortunately, points and pixels are two different measures – like comparing inches to centimeters – and this led to inconsistency in font sizes across different visualizations. Beginning with the June 2019 update, all Power BI font sizes in visualizations are measured in points.
Following is a listing of other improvements and enhancements made to the June 2019 release.
Reporting
Visual header tooltips

Table & matrix total label customization

Sync slicer support for hierarchy slicer
Analytics
Key Influencers visual updates (preview)

Key Influencers with Live Connect to Power BI datasets

Key Influencers accessibility

Support for Cloud RLS

Manage aggregations dialog accessibility
Modeling
New DAX comparison operator: ==
Visualization
Personalized visualization pane (preview)

io Synoptic Visual

PAFnow Process Mining

DualCard
Data connectivity
Connect to shared and certified datasets

Common Data Service connector is now generally available

Azure Data Explorer connector is now generally available

Enhancements to the Cosmos DB connector

Entersoft
Data preparation
Improvements to M Intellisense
For a complete listing of all improvements added with the June 2019 Power BI update, please visit https://powerbi.microsoft.com/en-us/blog/power-bi-desktop-june-2019-feature-summary/. Additionally, you can view the Microsoft-provided video below that describes the June 2019 update in detail.
To learn more about business intelligence, dashboard-style reporting, and Power BI, consider participating in one or more of the following K2 Enterprises courses: