Workplace Improvements Through Automation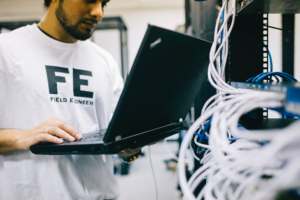 How can automation change your workplace for the better? Let's consider how workplace improvements through automation, such as machine learning and artificial intelligence, can reduce labor requirements and make people's jobs easier. Meanwhile, robots and machines are poised to take over some jobs — but don't panic. That doesn't impact our accounting work. Automation can boost employee training and improve morale. Below are some ways emerging technologies can change your work experience for the better.
One way automation can change your workplace is through machine learning. Machine learning can improve workplace culture by making processes more enjoyable. For example, using a chatbot to provide customer service may be less stressful than talking on the phone or via email with angry customers who have issues with bills or errors.
Using machine learning, accounting tools like Dext, Vic.ai, or Zoho Expense can process accounts payable invoices or expense items by applying machine learning. Learn more about five automation opportunities.
Efficiency and Improved Organizational Structure
The use of machine learning is already helping to change workplaces. Currently, it improves efficiency and organizational structure. Examples include enhancing collaborative workflows by identifying bottlenecks and assisting teams in making more informed decisions based on data. In addition, organizations use machine learning to help in project management, so each employee has a fair share of challenging tasks. Finally, they can understand their customers better using artificial intelligence as a decision-making aid.
Organizations can reduce bias in appraising career advancement opportunities. For example, we can use artificial intelligence or machine learning-enabled tools, such as pymetrics, HiredScore, or HireVue, for hiring or to reduce bias in appraising career advancement, among other things. Employers can identify promising employees who might not have risen through the ranks due to circumstances outside their control. For example, employees who are overlooked for promotion because they don't have good people skills or a strong ability to give presentations are identified and offered training in these areas.
When training employees, it's crucial to help them learn about the different facets of data science and machine learning. In short, with the CPA Evolution initiative, Data Analytics will become one of the three specialties of certified professionals. Ensure you cover everything from machine learning and how it works to decide which type of algorithm to use in your process. With enough time and repetition, this information will stick in your employees' minds and be actionable daily.
Improve Workplace Culture
Understanding how machine learning can improve workplace culture can help you implement strategies in your workplace that get you and your team on board with this new way of doing things. For example, business process management automates and streamlines workflows so staff can concentrate on worthwhile and significant activities rather than grunt work. In addition to increasing employee engagement, BPM increases productivity, reduces errors, and strengthens your balance sheet. When developing a BPM framework, continuously assess its efficacy, and act based on the monitoring data to enhance the process and output. Support tools from Celonis and Minit (acquired by Microsoft) will also automate more of the process mining.
Develop Your Technology Skills
To learn more about machine learning, consider returning to school. Earn an online computer science degree to help advance your knowledge in machine learning, logic, architecture and systems, and artificial intelligence. A degree focusing on technology can help you find a fulfilling career and stay up to date on developments in the machine-learning space.
With this newfound understanding of machine learning automation and its potential impacts on your workforce, it's necessary to consider how it can enhance teamwork, improve culture, increase employee learning and training opportunities, and reduce bias. In addition, workplace improvements through automation can help your business. Visit Totally Paperless for a guide on paperless offices, software solutions, and processes to achieve your business goals.