During July, Microsoft announced that two new features will become available in Microsoft Teams – 1) Focus Time and 2) Private Channels. Both these features will be rolled-out worldwide to users by the end of September 2019.

With Focus Time,  users will be able to change their status to Focusing – instead of other options such as Available, Busy, Do Not Disturb, etc. When you set your status to Focusing, Teams will silence inbound notifications, based on your priority access settings. More specifically, even if you set your status to Focusing, you can establish access settings that will allow you to receive notifications from people you specify. To modify your settings in this regard, click your picture near the upper, right corner of the Teams window and then click Settings. Then click Privacy followed by Manage priority access to open the window shown in Figure 1.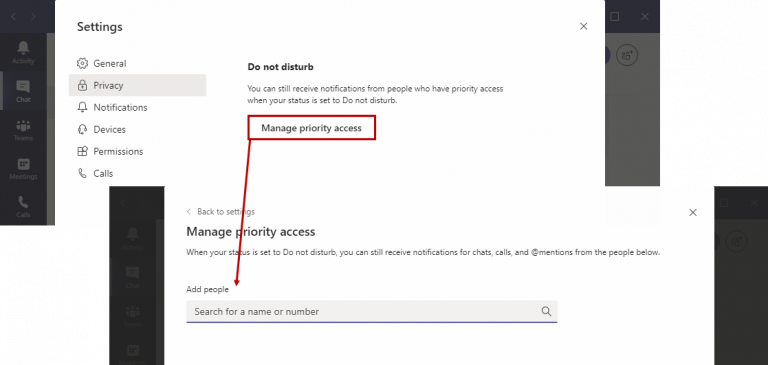 In addition to Focus Time, Microsoft is rolling out Private Channels. With Private Channels, you can control which members of a Team can access  content within a channel. Obviously, the benefit of Private Channels is the ability to limit exposure of sensitive information to those who do not need access to that information. In the absence of Private Channels, many Teams users were creating separate Teams to limit the visibility of sensitive information to specific members of a Team. With Private Channels, that will not be necessary because you will be able to create specific security settings at the channel level within a Team.
The functionality of Microsoft Teams continues to expand at a very fast pace. Because of the growing feature set, many organizations are moving to this platform for secure and convenient collaboration and communication. In fact, Microsoft recently reported that on average, over 13 million users work with this app each day. If you have not yet explored what Teams can do for you and your organization, now is a great time to get started!
Do you want to learn even more about Teams and Office 365? If so, consider the following learning options from K2 Enterprises: