Intuit Announces Price Increase For QuickBooks Online

On June 1, 2021, Intuit announced significant pricing changes to QuickBooks Online. At the same time, the company announced substantial changes to its' accountants' discount program. This series of changes will impact numerous tens of thousands of accountants in public practice and millions of QuickBooks Online subscribers. In this article, you will learn about these changes, how they may impact you, and how they will affect your clients if you are in public practice.
Price Increase For QuickBooks Online Subscribers
The most significant of the announced changes impact QuickBooks Online Essentials, Plus, and Advanced subscribers. Note that subscribers to QuickBooks Online Self-Employed or Simple Start will not see a price increase at this time.
Specifically, the cost of QuickBooks Online subscribers is about to increase, as outlined below.

The timing of these increases varies. For current subscribers, if you pay Intuit directly for your subscription, your price increase is effective August 1, 2021. However, if you pay your accountant for your subscription, the effective date for the new pricing is September 1. Finally, the new pricing goes into effect on July 15 for all new subscriptions, upgrades, or downgrades.
Intuit Is Replacing The Wholesale Discount Pricing Program
In addition to the general price increase outlined above, Intuit also is discontinuing the wholesale discount program. Through this program, enrolled accountants and advisors could subscribe to QuickBooks Online on behalf of their clients. When doing so, they received discounts of 50% off the retail subscription price. The firm could then decide to pass the discount through to the client or to add markup.
Intuit is replacing the previous model with the ProAdvisor Preferred Pricing program. This new discounted pricing program offers discounts up to 30% off retail pricing for QuickBooks Online subscriptions and related services. Note that all subscriptions in place before July 15 will continue to receive the 50% discount in the new pricing model. However, effective July 15, new subscriptions under the ProAdvisor Preferred Pricing program will be subject to the pricing shown below.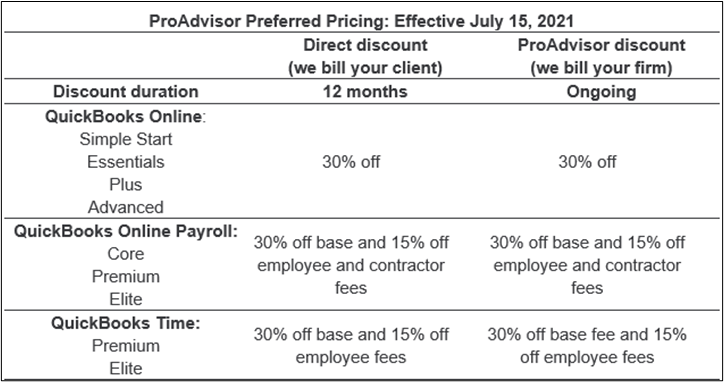 Resources To Answer Your Questions
Evidently, Intuit anticipates many questions surrounding the increased pricing and new ProAdvisor Pricing Program. To that end, the company has scheduled two Q & A sessions to help affected individuals and firms understand the new pricing programs in detail. You can participate in these sessions by visiting Intuit's website and registering for a webinar. Additionally, you can visit https://www.firmofthefuture.com/content/papp-faqs/ to learn more about the changes.
Millions of QuickBooks Online subscribers are soon to face increased prices. Those who subscribe to QuickBooks Online through an existing wholesale subscription with their accountant will not experience any change. However, for virtually all other subscribers, it appears that increased prices are inevitable, beginning July 15.
You can learn more about QuickBooks Online and other technologies by participating in a K2 Enterprises learning event. For more information, CLICK HERE.