5 Steps to Success as a Digital Nomad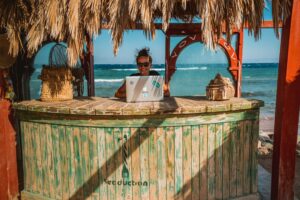 Today, you don't need to stop working to travel the world. These 5 steps to success as a digital nomad give you tips on working from anywhere. You can travel indefinitely as a digital nomad by making money through remote work! You can stay in cozy accommodations and meet other adventurous friends along your journey. If you have decided you are part of the great resignation or the great retirement, you may want to explore the world through travel. Here's how to start remotely working to become a digital nomad.
Start Your Remote Business
If you want to be able to work from anywhere with a Wi-Fi connection, you can either apply for fully remote jobs or launch your own online business! The latter option is typically a better choice for digital nomads, as this means you won't be beholden to an employer's schedule. You get to experiment with ways to organize your time differently. No matter your skill set, you can start an online freelance business. For example, you could offer video editing services, become a freelance writer, or work as a web designer. If you have professional skills, you can provide accounting services, tax services, or run a full practice with outsourcing or franchising from organizations like BooXkeeping or Wolters Kluwer.
You can set up a profile on an online job board to find your first clients. When potential clients come across your profile, they will consider your reviews, possible delivery times, and rates before hiring. You'll want to secure a few consistent clients before you leave so that you can enjoy a steady stream of income during your travels.
Once your business is up and running and you've begun landing clients, it's time to start making official plans to kick off your nomadic journey. First, you'll need to save money to cover some of your initial costs, like flights and travel insurance. To save, Budget Traveler recommends cutting unnecessary expenses from your budget, like going out to eat and putting that money into a travel fund instead.
You'll also need to decide on your first destination. Ideally, you'll want to find a city with a low cost of living, ample short-term rentals, a friendly ex-pat community, and plenty of fun things to do during your downtime!
Find Tech-Friendly Rentals
You've chosen your first destination, your flights are booked, and you're itching to pack your bags and get moving—but first, you need to find suitable accommodations. Choosing tech-friendly rentals with a workspace, plenty of outlets, and fast Wi-Fi is key to staying productive while working remotely.
But how can you assess all these factors from afar? The Points Guy recommends checking out reviews from previous guests on booking websites and searching for keywords like "internet" or "Wi-Fi." You'll also want to look for accommodations close to other businesses, like coffee shops, so that you'll be able to work outside of your rental when you need a change of scenery.
Once you're traveling overseas, you'll likely be moving through different time zones. That's why it's so important to stay on top of client communications and be ready to coordinate meetings and deadlines with people on the other side of the world. When you need to schedule video meetings, choose times that will be convenient for you and your clients. Answer emails promptly, and make sure that you don't miss deadlines because of confusion over time zones!
Even if you're traveling solo, you don't have to feel lonely on the road. Many digital nomads are looking for new friends and business partners for freelance collaborations, so why not spend a little time networking? You could go to events at coworking spaces to meet new people and feel more connected with local ex-pat communities.
Becoming a digital nomad can be an exciting lifestyle change. These 5 steps to success as a digital nomad gave you tips on working from anywhere. You'll be able to explore new cultures while funding your travels through remote work. With these tips, your digital nomad dreams are within your reach!