What You Should Know About Cybersecurity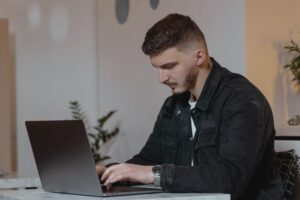 When you are busy managing or starting a business and learning the ins and outs of entrepreneurship, cybersecurity may not be at the top of your to-do list. But it is not something that you and your firm can ignore altogether. While you could invest days and hours in cybersecurity, we explain the crucial points of what you should know about cybersecurity. And fortunately, simply knowing how to spot the most common cyber threats will help protect your business from phishing, ransomware, malware, and viruses.
Below, we explain more about cybersecurity and the steps you should take to protect your business!
The Many Dangers of Cyberattacks
There are many types of cybercrime to be aware of when running a business. For example, common cyber-crime threats and cyberattacks include:
Social engineering (pretending to be inside the organization or a trusted outsider)
Credential theft (e.g., phishing emails)
Ransomware contained in electronic documents
Distributed denial of service (DDoS) attacks
Third-party software applications
Drive-by website infections
Cloud misconfiguration
Several harmful effects of cyberattacks include the following:
Reputational damage
Loss of sensitive data
Financial damages
Operational disruption
Thousands of dollars in lost revenue
Security Magazine found that a third of all breaches occurring in 2020 involved social engineering techniques such as scareware and phishing emails. About 43 percent of data breaches involved third-party web applications. Additionally, ransomware was involved in about 22 percent of all breaches. Cloud computing and DDoS threats grew due to remote working amidst the pandemic.
Tips to Protect Your Business with Better Cybersecurity
Cyberattacks are detrimental to businesses. Therefore, it is vital to assess your cybersecurity risk. Learn how to protect yourself and your business from phishing, ransomware, viruses, and malware threats. The Federal Communications Commission (FCC) offers an online planning tool to help you assess your cybersecurity risk and develop a customized strategy for your business. In addition, the Employee Benefits Security Administration published a well-thought-out document on cybersecurity program best practices.
In addition to performing a cybersecurity risk assessment, there are some other steps you can take to protect your business from suspicious online activity. For instance, if you hire employees, you may wish to train them in cybersecurity, such as passwords, internet browsing, and suspicious downloads. Salesforce shares some other cybersecurity best practices for businesses. Good recommendations include regularly backing up your data, choosing strong passwords, and keeping your software applications updated. One of our favorite cybersecurity awareness tools is KnowBe4. In addition, there are over ten reasonable competitors with similar capabilities.
What to Do if Your Business Falls Victim to a Cyberattack
If your business falls prey to a cyberattack, there are some steps you can take to protect your organization, customers, and employees from further damage. Start by assessing the situation, identifying the threat, and responding to the issue as quickly and effectively as possible. It is crucial to work with a dedicated agency specializing in IT security and recovery to mitigate and combat the dangers and effects of cyberattacks.
Commonly your cybersecurity insurance policy will have one or more recommended providers to augment your response team, including forensics. We have reviewed over twenty providers' contracts and can provide insights on coverage offered.
Suppose your company's website is infected with a virus. First, it is essential to scan your computers for malware. Further, remove any suspicious programs or viruses from your devices. Meanwhile, change all passwords used to manage your business website. You will also need to take down the infected website until your technical team eliminates the virus. Keeping the site up could harm your company's reputation and result in lost business.
As your business recovers from a cyberattack, it is also essential to determine what went wrong and take steps to protect your business from future threats during a post-mortem exercise.
How to Determine Where Your Organization's Security Posture Stands
It can be hard to pinpoint whether your organization is sufficiently protected from threats in today's ever-changing business climate. So, how do you determine where your security posture stands for your organization?
Whether these risks are cybersecurity-related, vendor-related, or individual-related, they all fall under the umbrella of your overall security posture. Therefore, read on to find out what security posture means and help you identify where yours stands.
What is security posture?
Security posture is a way to measure your company's overall security standing. It considers any security measures you may have in place and how well you protect things like data, networks, and vendor risk management. Once you have determined where your security posture stands, you can see how effective your current security strategy is and adjust, as necessary.
Why is security posture important?
One of the most significant benefits of knowing your company's security posture is having a clear idea of just how vulnerable your organization is to outside threats. This knowledge can help you prioritize your security to-do list and be more proactive in protecting against things like data breaches. In addition, as you begin to build your security posture, your organization will have a more robust handle on its information security to help you avoid becoming another statistic.
To help you gauge where your organization stands in its security posture, Secureframe has created this helpful infographic below, along with a flowchart that will help you determine whether your organization has a weak, average, or strong security posture. Once you determine where your organization stands, you can begin to implement measures to bolster your overall security and prevent costly cyberattacks.
As more online businesses launch and a growing number of employees work from home, cyberattacks are becoming even more common — and professionals and entrepreneurs must be able to identify threats such as phishing, viruses, malware, and ransomware. The essential issues above are what you should know about cybersecurity. The more you can learn about cybersecurity; the safer and more profitable your business will be through the years.